Want to learn how to do Inbound Marketing successfully so you can get more customers?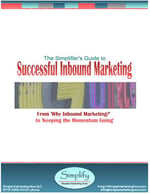 This Guide to Successful Inbound Marketing details all of the steps to inbound success, from 'Why Inbound Marketing?' to 'Keeping the Momentum Going.'
You'll even find some helpful checklists.
Click on the button there to learn more.