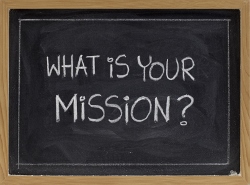 What's your opinion of mission statements? Do you use them or ignore them completely? Would you think differently if you saw what great brands do with mission statements?
Mission Statements: Boring or Inspiring?
Generally, I find them boring beyond belief - so full of gobbledygook and hot air to be almost useless, and definitely boring, uninspiring, unintelligible...
(Check out The 9 Worst Mission Statements of All Time if you aren't convinced.)
And, yet, some mission statements surprise, delight, inspire and transform. They provide purpose. They guide and help unify organizations. They go hand-in-hand with the corporate culture. They also help guide a company's content strategy and business blogging.
I hadn't really thought much about mission statements until I read the first chapter of Denise Lee Yohn's book What Great Brands Do (see What Great Brands Do By Denise Lee Yohn).
There, she shares the example of IBM's Palmisano who inextricably links values with mission. This results in a close blending of the IBM mission with culture and values as well as into the fiber of the business and the essence of the IBM brand. No surprise that, at IBM, the mission is "used to inform business decisions and employee actions."
Since then, I've become curious about mission statements.
Just as I discovered in SEO Tips: Having Fun with Title Tags and Meta Descriptions, I'm finding that great brands waste no opportunity to share what they believe in. They consistently communicate what they are about. These aren't bland organizations. Rather these are businesses which practice what they preach and generate fierce loyalty internally from associates who believe fiercely in the mission and help define the culture.
These businesses consistently focus on customers and delivering remarkable experiences and they reflect that fierce consistency in their business blogs, in their customer interactions and in their mission statements.
Discover for yourself with these 8 examples and let me know what you think.
1. Google's Mission Statement
When this article originally published in 2014, you could immediately locate the Google mission and company philosophy on the 'about us' page.
"Google's mission is to organize the world's information and make it universally accessible and useful."
The company philosophy listed the following 10 values that Google holds to be true:
Focus on the user and all else will follow.
It's best to do one thing really, really well.
Fast is better than slow.
Democracy on the web works.
You don't need to be at your desk to need an answer.
You can make money without doing evil.
There's always more information out there.
The need for information crosses all borders.
You can be serious without a suit.
Great just isn't good enough.
The current About Us Google page captures that mission visually.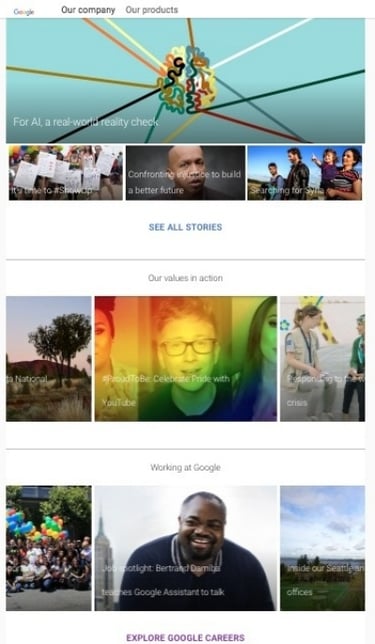 2. Amazon's Mission statement
From the Amazon Fact sheet, "To be Earth's most customer-centric company where people can find and discover anything they want to buy online."
Amazon expands on this as follows:
"This goal continues today, but Amazon's customers are worldwide now, and have grown to include millions of Consumers, Sellers, Content Creators, and Developers & Enterprises. Each of these groups has different needs, and we always work to meet those needs, innovating new solutions to make things easier, faster, better, and more cost-effective."
And these are the Amazon leadership principles:
Customer Obsession
Ownership
Invent and Simplify
Are Right, A Lot
Learn and Be Curious
Hire and Develop the Best
Insist on the Highest Standards
Think Big
Bias for Action
Frugality
Earn Trust
Dive Deep
Have Backbone; Disagree and Commit
Deliver Results
3. Chipotle's Mission Statement
Chipotle's About Us page refers to "The Business of Good Food."
In 2014, that page detailed the following:
"...Our focus has always been on using higher-quality ingredients and cooking techniques to make great food accessible to all people at reasonable prices. But our vision has evolved. While using a variety of fresh ingredients remains the foundation of our menu, we believe that "fresh is not enough, anymore." Now we want to know the sources for all of our ingredients, so that we can be sure they are as flavorful as possible while we are mindful of the environmental and societal impact of our business. We call this idea, Food With Integrity, and it guides how we run our business."
It now details the Chipotle mission as follows:
"Over 23 years later, our devotion to seeking out the very best ingredients we can--raised with respect for animals, farmers, and the environment--remains at the core of our commitment to Food With Integrity. And as we've grown, our mission has expanded to ensuring that better food is accessible to everyone."
And "Food With Integrity" remains a critical component.
4. The Virgin Mission Statement
Virgin explains in its about us section,
"Our mission statement is simple, yet the foundation of everything we do here at Virgin Atlantic Airways... to embrace the human spirit and let it fly."
This hasn't changed, despite its new ownership.
5. Trader Joe's Mission Statement
About.com for the Retail Industry described Trader Joe's mission as,
"The mission of Trader Joe's is to give our customers the best food and beverage values that they can find anywhere and to provide them with the information required to make informed buying decisions.
We provide these with a dedication to the highest quality of customer satisfaction delivered with a sense of warmth, friendliness, fun, individual pride, and company spirit."
That reference is no longer available. However, you can find it in the Trader Joe's timeline.
For more detail, read Trader Joe's story for what matters:
"...And that's important, because "Value" is a concept we take very seriously. And by 'Value,' we mean great everyday prices on all of our great products — no sales, no gimmicks, no clubs to join, no special cards to swipe... How do we do it?
We buy direct from suppliers whenever possible, we bargain hard to get the best price, and then pass the savings on to you.

If an item doesn't pull its weight in our stores, it goes away to gangway for something else.

We buy in volume and contract early to get the best prices.

Most grocers charge their suppliers fees for putting an item on the shelf. This results in higher prices... so we don't do it.

We keep our costs low — because every penny we save is a penny you save.
It's not complicated. We just focus on what matters — great food + great prices = Value."
6. Zappos' Mission Statement
The mission statement of Zappos.com, also referred to by Zappos employees as their "WOW Philosophy," is... "To provide the best customer service possible."

This goes hand-in-hand with the Zappos Family Core Values to which everyone in the company contributes on a yearly basis:
Deliver WOW Through Service
Embrace and Drive Change
Create Fun and A Little Weirdness
Be Adventurous, Creative, and Open-Minded
Pursue Growth and Learning
Build Open and Honest Relationships With Communication
Build a Positive Team and Family Spirit
Do More With Less
Be Passionate and Determined
Be Humble
7. Nordstrom's Commitment
When it comes to Nordstrom, the mission - no surprise given its reputation - is about remarkable customer service.
"In store or online, wherever new opportunities arise—Nordstrom works relentlessly to give customers the most compelling shopping experience possible. The one constant? John W. Nordstrom's founding philosophy: offer the customer the best possible service, selection, quality and value."
Even more powerful, though, is this statement from the Nordstrom About Us page:
"Fashion changes. Shopping changes. Our commitment to happy customers doesn't."
8. HubSpot's Mission Statement
I'm a big admirer of HubSpot, but had never paid much attention to their mission statement. I'm immersed in their culture - thanks to the many talented and passionate HubSpotters I interact with daily - and am delighted at how closely their mission statement and culture code maps out to what I have experienced:
"To make the world Inbound. We want to transform how organizations attract, engage and delight their customers."
The HubSpot culture code includes the following ten points:
1. We are as maniacal about our metrics as our mission.
2. We obsess over customers, not competitors.
3. We are radically and uncomfortably transparent.
4. We give ourselves the autonomy to be awesome.
5. We are unreasonably selective about our peers.
6. We invest in individual mastery and market value.
7. We defy conventional "wisdom" as it's often unwise.
8. We speak the truth and face the facts.
9. We believe in work+life, not work vs. life.
10. We are a perpetual work in progress.
(See Compared to This, Your Mission Statement Sucks.)
More Great Brand Mission Statement Inspiration
Richard Branson on "Crafting Your Mission Statement" (sadly, the link is no longer available) shared the following brilliance,
"Brevity is certainly key, so try using Twitter's 140-character template when you're drafting your inspirational message. You need to explain your company's purpose and outline expectations for internal and external clients alike. Make it unique to your company, make it memorable, keep it real and, just for fun, imagine it on the bottom of a coat of arms."
If you need advice on creating your own mission statement, check out How to Write a Fluff-Free Mission Statement, as well as The HubSpot Culture Code: Creating a Company We Love.
Mission Statements to Add to this List?
What's your reaction to these mission statements?
Which companies would you add to the list? How's your mission or statement of business purpose? What other content does it affect and how?
Note: This article was originally published on 5/1/2014 and has been updated.