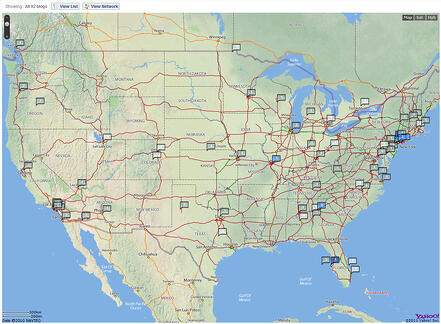 As I mentioned in
Networked Blogs: Social Flooring Index November 2011
, an important aspect of social media and being successful with blogs is a
willingess to engage socially
.
[For more on that, see Sharing Online Marketing Advice with Columbia Business School.]
Engaging socially has two aspects:
1. Establishing social profiles on other networks in addition to your blog [e.g., LinkedIn, Facebook, Twitter]
2. Sharing readily available details on how to access those profiles on your blog or website. [For more on that topic, see 7 online marketing advice tips about using social icons.]
The map above, captures visually the implications of engaging socially. Namely, that you can also connect IRL [in real life] with others involved in social media. [For example at trade shows such as Coverings: Meetups and Tweetups: Building Community.] Blogs with active social profiles appear flagged on this map.
Of the 190 floor covering blogs included in the November 2011 Social Flooring Index, 92 or 48% include geographic information - compared to 65 in April 2011. 81 of the 92 are located in North America.
Furthermore, of the 92 flooring blogs actively engaged in social networks:
100% refer to Twitter [ vs. 45% in April 2011]
62% include reference to Facebook Fan Pages [vs. 32% in April 2011]
12% refer to a Facebook personal profile [vs. 5% in April 2011]
8.7% include a LinkedIn reference [vs. 4% in April 2011]
Whereas in April 2011, 46% of flooring blogs made no reference to any social networks, 42% don't in the November 2011 Social Flooring Index.

Definite signs of progress!
What are your reactions to geography and the November 2011 Social Flooring Index? I'd love to hear.

---
Note: Analysis powered by eCairn.