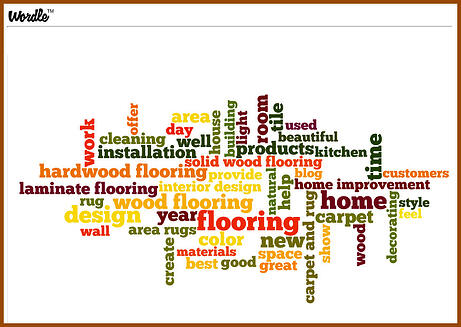 As you know, I've been updating the Social Flooring Index for November 2011. The last part of the analysis explores the conversation topics taking place.
[Previous articles in the Social Flooring Index November 2011 series include:
During the past six months, the 190 floor covering blogs included in the Index generated 8,174 total conversations [or blog articles]. That compares to 7,571 based on 168 flooring blogs in the April 2011 update.
Although these blogs have generated more conversations, this translates to 43 blog articles per blog over 6 months in November [or 7.2 blog articles per month per blog] compared to 45 blog articles over 6 months in April [or 7.5 blog articles per month per blog]. Very close.
As you can see from the graphic above which extracts the top 50 terms from these blog articles, the expressions make sense given the focus on interior spaces and flooring products. [To compare this graphic to the one from April, click on Social Flooring Index Conversations - April 2011.]

The top ranking terms include:
Home [35% of the conversations]
Time - 26%
Design - 21%
Work - 20%
Room 18%
From a product perspective:
Flooring - 23%
Carpet - 13% [carpet cleaning 3%]
Tile - 11%
Wood - 14% [wood flooring: 3%, hardwood flooring 4%, hardwood floors 5%]
Laminate - 5% [laminate flooring: 3%]
Vinyl - 4%
Cork - 2%
Rug - 8%
From a design perspective, the terms used include:
Decorating 3%
Style 14%
Feel 10%
Beautiful 10%
Interior design 3%
Color 12%
Light 10%
Fashion 2%
Kitchen 11%
Room 18%
Finally, cleaning comes up 8%, questions 5%, solutions 3%, recycling 1% and allergy 1% [up from .5% in April 2011].
As I observed earlier this year, I believe the Flooring Industry has untapped social opportunity ahead for rich conversations and greater interaction with other serious flooring blogs.
What is your reaction to these conversations? Do the words match up what you hear your customers bringing up? Are you focusing more or less time on product specifics compared to placing those products into your customers' bigger picture? Do you see more opportunity for interaction and conversation?
Thanks for reading!
Best,
C.B.
---
Note: Analysis powered by eCairn.