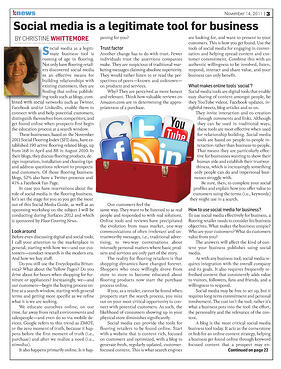 Floor Covering News has just issued its 2nd annual Guide to using Social Media in Business.

[I wrote about the first edition in Floor Covering News Social Media Guide 2010.]

I am particularly excited about the 2011 Guide because I was invited to contribute... an article titled "Social media is a legitimate tool for business".

Furthermore, several social media practitioners - listed in the Social Flooring Index - and friends contributed. More specifically,
Sima Dahl from Parlay Communications offered LinkedIn advice in "5 steps to market yourself on LinkedIn" on page 20.
Irene Williams from QRHere offered advice on mobile technology in "The market is going mobile and so should you" on page 13.
You can access the digital edition of FCNews' Social Media Guide for Business 2011 by clicking on this link.
If you attend the Surfaces 2012 Workshop on Social Media: How To For Business on January 23, 2012 from 9am to noon, we will have copies of the Guide to share thanks to our workshp sponsor, Floor Covering News!
I'd love to hear what you enjoyed most about the FCNews Social Media Guide for Business 2011. What do you see implementing for your business?