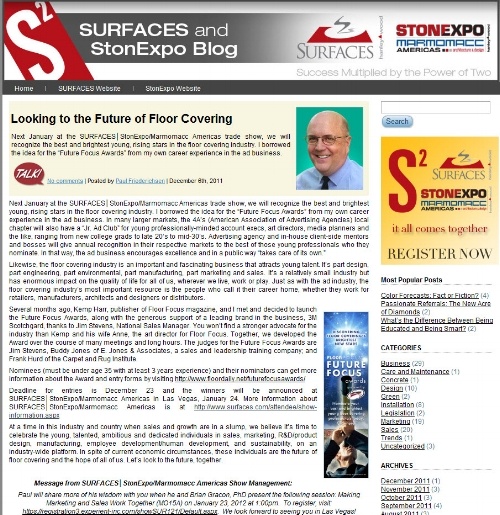 Have you had a chance to read the Surfaces and StonExpo Blog? It is included in the November 2011 update to the Social Flooring Index and next on the list for a Social Flooring Index blog review!
The Surfaces and StonExpo Blog was launched on December 10th, 2009 with a blog article titled You're As Good As the Company You Keep by my friend and associate Paul Friederichsen [also pictured here with the most recent blog article titled Looking to the Future of Floor Covering!].
Since its launch in late 2009, the Surfaces and StonExpo blog has published 66 articles, between 1 and 4 per month.
Articles fall into the following categories all relevant to the stone and flooring industries: business, care and maintenance, concrete, design, green, installation, legislation, marketing, sales, trends and uncategorized.
What I love most about the Surfaces and StonExpo blog is that it features so many contributors. To date, 24 individuals - all Surfaces and StonExpo education program presenters - have authored articles. More specifically, and in addition to Paul mentioned above who has contributed the most:
As a result, blog articles offer a wide variety of voices and perspectives, provide insight into the education program course offerings and draw readers into the fascinating and multi-faceted world of stone and flooring. In other words, it extends the Surfaces and StonExpo show experience beyond the trade show's specific four days.
The Surfaces and StonExpo Blog sidebar features, in addition to categories and authors, the three most popular posts and social media icons for following Surfaces and StonExpo via Twitter and Facebook.
Given this blog's focus on the stone and flooring industries, here's what I wish the Surfaces and StonExpo Blog would do:
Offer an email subscription mechanism.
Add more industry links and resources in the sidebar. The only one included is the Floor Covering Institute Blog. I know there are more!
Identify a blog editor. Offer insider perspective on the Surfaces and StonExpo Show and identify the people of Hanley-Wood who make this show such an unforgettable event.
Publish more consistently [i.e., one per week].
Great job, Surfaces and StonExpo Blog, capturing the richness of the flooring and stone industry and sharing a taste for what show attendees can expect! I look forward to reading more.
What do you like most about the Surfaces and StonExpo Blog? Let me know in the comments.