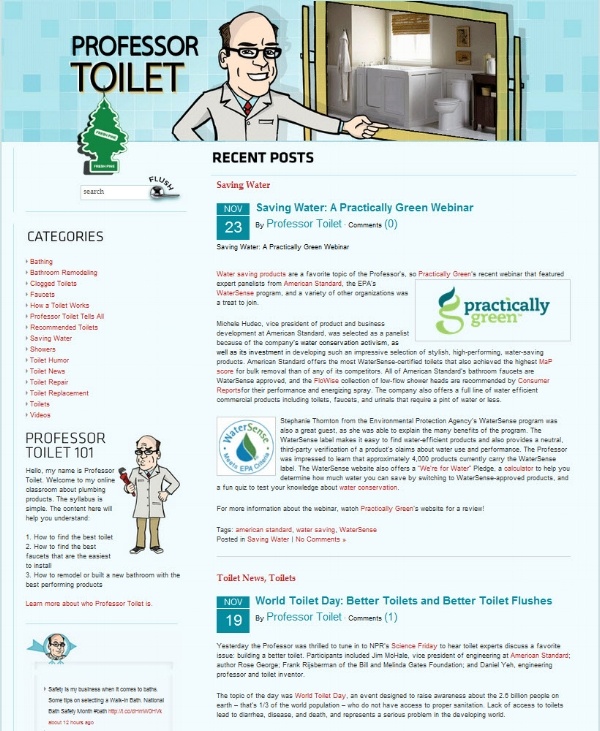 This Social Flooring Index Blog Review allows me to focus on my dear friend and fellow Bathroom Blogfest participant, Professor Toilet. He writes American Standard's the Professor Toilet Blog which is included in the November 2011 update to the Social Flooring Index.
Professor Toilet published his first blog article on June 1, 2009. And, although he hasn't been consistently regular [hmmm, that may go with the territory...], Professor Toilet publishes approximately 6 times per month with a hiatus over the holidays.
If you're curious about Who Professor Toilet is, you will learn that "Professor Toilet is based on the American Standard vice president/general manager for consumer fixtures, James Walsh. Note the resemblance."
Professor Toilet takes his job as an educator quite seriously. The stated goal of the Professor Toilet Blog is to educate. It's an "online classroom about plumbing products. The syllabus is simple. The content here will help you understand:
1. How to find the best toilet
2. How to find the best faucets that are the easiest to install
3. How to remodel or built a new bathroom with the best performing products"
Blog articles fall into the following categories: Bathing, Bathroom Remodeling, Clogged Toilets, Faucets, How a Toilet Works, Professor Toilet Tells All, Recommended Toilets, Saving Water, Showers, Toilet Humor, Toilet News, Toilet Repair, Toilet Replacement, Toilets, and Videos.
The Professor Toilet Blog sidebar includes recent comments, the Professor Toilet twitter feed, social 'Follow Us' icons for Professor Toilet and American Standard, and a brilliant search box where the search button is a 'flush handle'. Sweet!
What comes across when I read the Professor Toilet Blog is a fierce commitment to plumbing education, a passion for high performing, sustainable and responsible plumbing products and a delicious sense of humor.
You'll notice a range of content types including contests, eco-inspiration, trend reports, how-to instruction and blogger perspectives [e.g., American Standard Design Center Visit: Innovation with a Side of Toilet Humor]. Professor Toilet has participated in the last three annual Bathroom Blogfests with terrific articles!
Professor Toilet is not afraid to link out to other blogs and resources and expand the conversation!
Here's what I wish the Professor Toilet Blog would do:
Add links to top posts or use the Link Within widget to showcase the gems published in previous blog articles
Add an email subscription option
Add a blogroll to the blog sidebar with links to bloggers and organizations as passionate as Professor Toilet is
Great job, Professor Toilet, capturing the richness of toilets, plumbing, water responsibility and sustainability! I look forward to reading more.
What do you like most about the Professor Toilet Blog? Let me know in the comments.