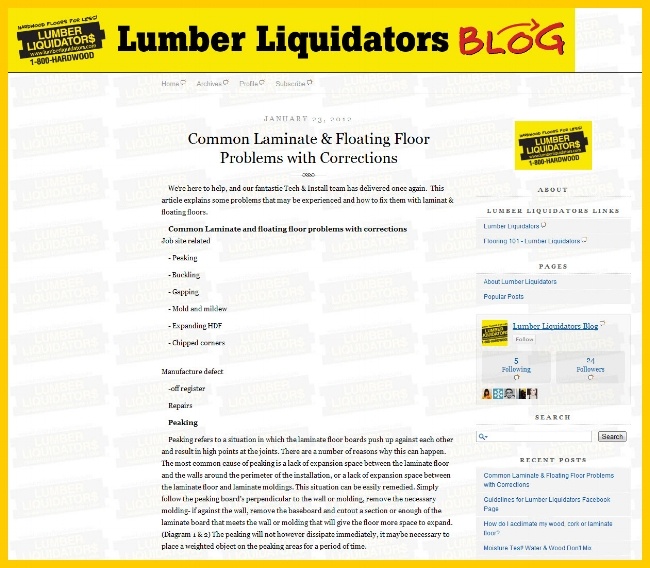 The Lumber Liquidators Blog was launched on 6/18/2010 with Hardwood Cleaning Tips.
The blog focuses primarily on flooring products with emphasis on hardwood flooring [bamboo, cork, engineered, handscraped, Janka, laminate...]. It does a tremendous job adressing How-To and Installation topics, using visuals and images to demonstrate tips and best practices.
Although it published more frequently when it first launched, the Lumber Liquidators Blog has settled into a monthly publishing schedule. Blog articles focus on Lumber Liquidators links. However, they do include links to favorite sites as listed in the July 14, 2010 post titled What WOOD You Like to Hear About?, the first article to highlight the blog editor's voice.
Interestingly, in December 2011, you'll find a blog post titled Guidelines for Lumber Liquidators Facebook Fan Page. It's quite detailed and is linked to from Lumber Liquidators' Facebook Fan Page.
The blog's About Us page focuses on the Lumber Liquidators History.
Popular posts detail articles from June and July 2010. In the blog sidebar, you'll find invitations to become a Fan, subscribe by RSS and follow the blog via Typepad.
Here's what I wish Lumber Liquidators would do:
1. Identify who's writing! I know there's personality there. Please let me know whose voice we are hearing!
2. About Facebook. Go check out Lumber Liquidators' Facebook Fan Page. There's a lot of activity and engagement taking place on a frequent basis. I'd love to see in the blog sidebar a Facebook Fan Page widget that captures some of that interaction.
3. Add an email subscription form to the blog sidebar.
Great job, Lumber Liquidators Blog, sharing wood flooring How-To and Installation tips with readers! I look forward to reading more.
What do you like most about the Lumber Liquidators Blog? Let me know in the comments.