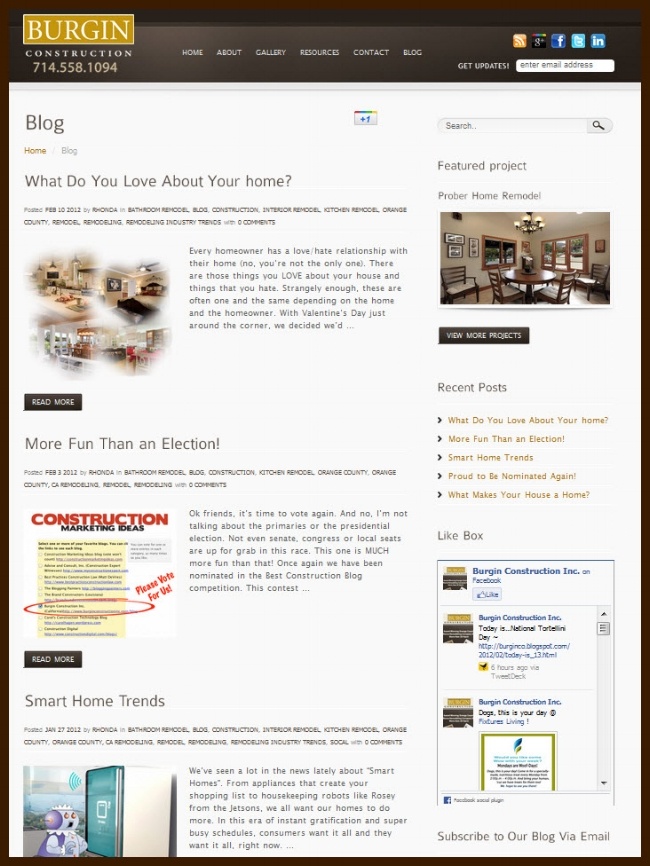 This Social Flooring Index review focuses on the Burgin Construction Blog.
I first heard about Burgin Construction about 2 years ago at Surfaces during a presentation given by Marty Gould from Focalize Consulting. Not only was Burgin Construction doing good marketing and effectively connecting with customers, but their name 'Burgin' sounded a lot like 'Bergin', my maiden name.
Several months back I got to 'meet' Rhonda Burgin via Twitter during #KBTribeChat [see Bathroom Blogfest Twitter Chat: #kbtribechat]. She is the voice you hear when you interact with Burgin Construction online...
Let me then introduce you to the Burgin Construction Blog.
The first article on the Burgin Construction Blog was written on January 26, 2009. Articles are published once per week and cover a variety of topics ranging from news about the Burgin team [We're welcoming our newest Burgin team member and It's a boy! Welcome to the World Eddy Jr.!] to articles about remodeling and Brad Burgin's Top 10 Products of 2011. You'll notice seasonal articles - e.g., What do you love about your home? for Valentine's Day - and ones that are locally relevant to Orange County, California.
I love that the blog includes a customer testimonial: A Rave Review for Burgin Construction.
Regardless of the topic, these blog articles are engaging, informative and alive with passion. No surprise, the blog has created a vibrant community [see Family, Hawaii and a Surprise].
In the Burgin Construction Blog sidebar you will notice a Facebook fan box, a link to a before/after home remodel slideshow and other projects, recent blog posts and.... an email subscription form, something many blogs forget to include.
You'll also notice in the site footer, a photo of Rhonda and Brad Burgin, company owners, and information about how the company got started.
Here's what I wish the Burgin Construction Blog would do more of:
List blog article categories in the blog sidebar so readers can filter through articles and discover your rich content.
Move the email subscription form above the fold and to the top of the sidebar for easy subscribing to your content.
Congratulations Rhonda and the Burgin Construction Blog for creating such an engaging environment! I look forward to reading more.
What do you like most about the Burgin Construction Blog? Let me know in the comments!
--
By the way, here is how to connect with Burgin Construction: