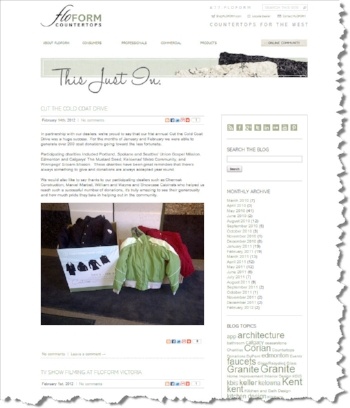 At our Surfaces 2012 workshop - Social Media: How To For Business - Sarah Johnson and I used FloForm Countertops as an example. Here follows a Social Flooring Index review of their blog, the FloForm Countertops Blog: This Just In.
FloForm, which merged with Fine Line Pacific in August, 2011, launched its blog on March 19, 2010 [see Sunshine & Spring].
Blog articles are filled with delicious images that will leave you pining for [and pinning on Pinterest] new countertops! Check out 10 Kitchen Remodeling Trends, Our New Showroom In Winnipeg and Desert Theme Decorating For Your Home. What do you think?
I particularly enjoyed the glimpses blog articles offer of the FloForm organization and its people. Behind the scenes looks such as Nothing Is Impossible or the Regina Habitat For Humanity Fundraiser and The 2011 Kitchen Bath And Renovation Show Wrap Up based on a recent trade show event. No wonder they've been named to Canada's 50 Best Managed Companies of 2011! These are cool people!
The blog's sidebar includes, at the top, quick links to all of FloForm's social profiles, from Facebook, Google+, Twitter, LinkedIn, Flickr, YouTube and Pinterest. Do check those out. The Facebook Fan page is unlike those I've encountered thus far -- with a section about Featured Designers, one on Inspiration, and plenty of interaction with fans on the wall.
The blog sidebar also features FloForm's Twitter stream.
Here's what I wish the FloForm Countertops Blog would do more of:
Create a robust 'About Us' section on the blog that describes the company and its passion for countertops. Explain the connection between FloForm and Fine Line Pacific since references to Fine Line Pacific abound throughout the blog.
Include a photo of the blog writer and/or editor in the blog sidebar.
Add an email subscription option.
Include a blogroll of admired designer, kitchen and bath blogs.
Finally, the FloForm Facebook Fan Page is intensely interactive and alive. Why not add a Facebook Fan Widget to the blog sidebar to share some of that engagement on the blog?
Added 2/23/12: do check out FloForm's Heritage page with details on its rich history!
Great job, FloForm Countertops Blog, promoting your love for countertops, brilliant kitchen and bath design and your community! I look forward to reading more.
What do you like most about the FloForm Countertops Blog? Let me know in the comments.