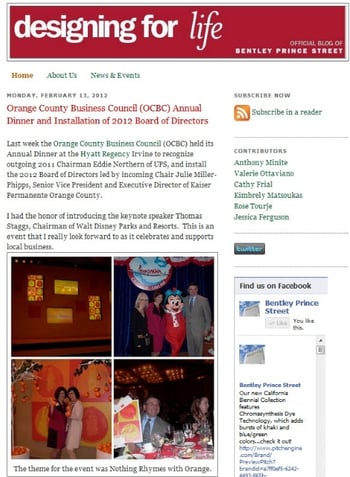 In this Social Flooring Index blog review, I'd like to introduce you to Bentley Prince Street's blog, the Designing for life Blog.
This blog includes many great touches! For example, six people contribute to the blog and their profiles are all available on the blog's sidebar. More specifically Anthony Minite, Valerie Ottaviano, Cathy Frial, Kimbrely Matsoukas, Rose Tourje and Jessica Ferguson.
Bentley Prince Street's Designing for life blog published its first blog article - Welcome to our Blog - on January 13, 2010.
The publishing schedule ranges from two to 23 articles per month. On average, Designing for life publishes one to two blog articles per week.
You'll find articles introducing blog contributors [e.g., Meet Rose Tourje]. I enjoyed learning about Proud to Support Habitat for Humanity and the Wonderful Families They serve in our community. You'll find other company voices, in addition to the official contributors. They share passion for healthcare design, local events and sustainability. Can you imagine tabulating October Dumpster Dive Results?
Overall, blog articles are intensely human, conversational and real. The photos - of real Bentley Prince Street people - are warm and engaging.
I like the listing of 'related posts' at the end of each article. That's a great way to showcase existing content.
I love that the blog sidebar includes a robust blogroll! And that it includes both RSS and email subscription!
Check out the About Us section which touches on what motivates Bentley Prince Street's Designing for life blog. More specifically,
Beauty. Service. Quality. Partnership.

These tenets inspire every product we make and every service we deliver. Guiding each of these principles is Mission Zero™, our commitment to eliminate any negative impact our company may have on the environment by the year 2020. Our beacon for the future, Mission Zero is our fervent journey of examining, improving and innovating for the sake of the economic, natural and social systems we touch.
These are marvelous BHAG goals!
Notice, too, the News & Events tab which links to Bentley Prince Street website newsroom.
Here's what I wish Bentley Prince Street's Designing for life blog would do:
1. Include in the sidebar a list of labels or categories used for blog articles. Doing so would invite visitors to go explore your content.
2. Add a way for easily finding each individual blog contributor's articles [perhaps labels or categories for blog authors might address this].
3. Include more links within blog articles - to add dimension to your articles
4. In addition to listing your Facebook fan page and your Twitter account, consider adding a Twitter stream widget so visitors can experience your Twitter stream, too.
Great job, Bentley Prince Street Designing for life blog, sharing your passion for your category, your industry. Yours is a vibrant organization and blog! I look forward to reading more.
What do you like most about the Designing for life blog? Let me know if the comments.