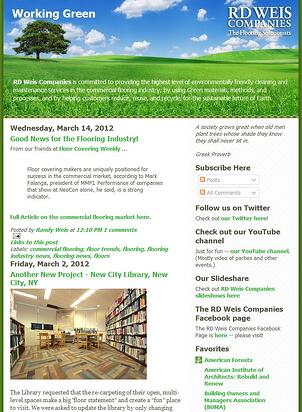 Given that the last
Social Flooring Blog Review examined the USGBC Blog
, it seems fitting to turn to
RD Weis Companies
'
Working Green Blog
.
Why? Because RD Weis Companies, as described on its home page is a "NYC-based, full-service commercial flooring contractor offering sustainable and environmentally friendly carpet and floor care, maintenance, installation, and cleaning."
On its blog, it states that it is "committed to providing the highest level of environmentally friendly cleaning and maintenance services in the commercial flooring industry, by using Green materials, methods, and processes, and by helping customers reduce, reuse, and recycle, for the sustainable future of Earth."
Spend time on the RD Weis Working Green Blog and you'll quickly realize that this company is serious about sustainability and well... working green.
The
RD Weis Working Green Blog
was launched on February 4, 2009. It has published 230 blog articles. The publication pace has slowed a bit, down to approximately 4 articles per month.
Randy Weis
, President and Founder, is very involved in the blog. He's also comfortable discussing his passion for sustainability via video as you can see in
Randy on Sustainability
.
The blog's sidebar includes links to the company's
Twitter
,
Facebook
YouTube
and
SlideShare
profiles. You'll notice an extensive blog roll listing of green, flooring and facility management related resources, as well as directions on how to reach RD Weis' company offices.
Here's what I wish the RD Weis Working Green Blog would do more of:
In addition to the RSS subscription option, add email.
Include in the sidebar a listing of the blog article categories for easy searching.
Add in the sidebar an option to learn more about the blog authors. Link to the company website profiles, or create a separate blog article to introduce blog authors to your readers. Then link to those articles in the sidebar.
I love that you use SlideShare. Any chance you might update your Earth Day presentation for 2012? Do a blog article, too!
Consider doing some spring cleaning with your listing of favorites.
Great job, RD Weis Working Green Blog sharing perspective and insights on sustainability and flooring! Your passion is contagious! I look forward to reading more.
What do you like most about the RD Weis Working Green Blog? Let me know in the comments.