In less than two weeks, you'll have the opportunity to immerse yourself in
Coverings 2013
, and attend
Selling Tile: the Internet, the Industry & the Consumer,
a tile industry panel discussion with four tile industry experts. All four have an online presence. All have distinct opinions on selling tile online.
The panelists include Bill Buyok, Avente Tile, Tom Carr, Pan American Ceramics, Dave Milanowycz, Florida Tile, and Steve Slutzah, Westside Tile and Stone. They will share a range of perspectives about selling tile online, how the Internet affects the tile industry and how it fits into tile business models.
In anticipation of this discussion, which I will moderate, I've invited each participant to participate in a blog interview. Next is Steve Slutzah.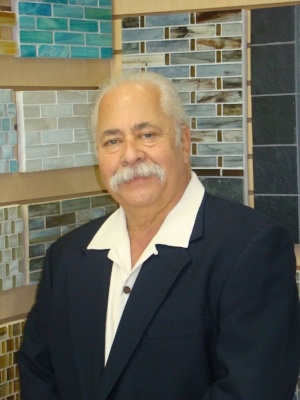 C.B.: Steve, tell me about yourself and your company.
My tile career began as a salesperson for Color Tile, quickly becoming a Regional Manager, I have managed over 100 stores from New York to California. Getting tired of being told I made too much money, I opened Westside Tile and Stone in 2005.
Having learned from the mistakes of others, and that being on the cutting edge was not certain doom, Westside Tile quickly became one of the most successful stores in Los Angeles. With the opening of a second location in Beverly Hills, we are proud of the quality and service we provide.
(Read Steve Slutzah of Westside Tile and Stone Does It for the Love of Tile to fully appreciate Steve's committment to creating "an extraordinary experience and ambiance for anyone entering his store... (where) tile facilitators -they are not salespeople- ... are always on hand to personally guide customers throughout the gallery of products and help them find the perfect tile for their specific need and application.")
C.B.: What do you love most about tile?
During a lecture at the Ceramic Tile Institute of America (CTIOA) for my CTC certification, Joe Taylor of the Tile Heritage Foundation said, "some of you will have very successful careers just selling and installing tile. A few of you will either sell or install tile in such a way that years in the future people will see it and say INCREDIBLE!!" I want to somehow be involved with the WOW!! Factor.
C.B.: How does online fit into Westside Tile and Stone's business?
Along with all of the other marketing we do, it is number 1 in priority. It brings people to my store, my phone rings with people asking questions about location, hours, what we sell. It is without a doubt the most important marketing tool we have.
C.B.: Which of the online resources you use for your business do you find most effective and why?
We do not buy google adwords. Most of our effort is thru organic search. We use one company to increase our presence in Southern California.
C.B.: What is your opinion on selling tile online? Why?
If price becomes the most important selling tool in our industry, we are going the way of the record store, the book store and all the other places that are disappearing. But tile is different. My customers have to see it, touch it, get help designing it. When the tile store disappears, Joe Taylor's words will disappear as well as most of us.
C.B.: What advice would you offer someone who wants to get started online with tile?
It's too late unless your prices are cheaper than the other guy.
C.B.: Steve, how can you and Wetside Tile and Stone be reached online?
You can find Westside Tile on Facebook, on Twitter and on Pinterest. You can contact us via the Westside Tile and Stone website and definitely check out the Westside Tile and Stone Blog!
C.B.: Thank you, Steve! I look forward to our panel discussion!
What is your take on selling tile online? How do you use the Internet in your business?
I hope you'll join us at Coverings 2013 in Atlanta on Wednesday, May 1 from 3:15 to 4:15pm forSelling Tile: the Internet, the Industry & the Consumer. Registration is free!