If you're interested in learning about
Selling Tile: the Internet, the Industry & the Consumer
, I invite you to attend
Coverings 2013
. You'll get to attend a tile industry panel discussion with four experts. All four are immersed in tile. They all have an online presence. All have distinct opinions on selling tile online. You're guaranteed to learn a lot!
The panelists include Bill Buyok, Avente Tile, Tom Carr, Pan American Ceramics, Dave Milanowycz, Florida Tile, and Steve Slutzah, Westside Tile and Stone. They will share a range of perspectives about selling tile online, how the Internet affects the tile industry and how it fits into tile business models.
In anticipation of this discussion, which I will moderate, I've invited each participant to participate in a blog interview. Next is Dave Milanowycz.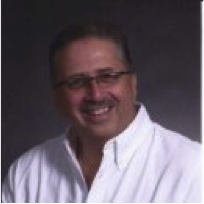 C.B.: Dave, tell me about yourself and your company.
Florida Tile is owned by the Panaria Group, a worldwide manufacturer and distributor of quality wall tile, quality porcelain tiles, and thin materials. Panaria has manufacturing facilities in Portugal and in Italy. Florida Tile is responsible for the North American market. Florida Tile serves 84 distributors and 19 company owned stores and growing. The FT areas served are Canada, the Carribbean, and the United States.
My responsibilities as National Director of Independent Distribution are to provide our distribution network with the most updated styles and designs of tile, marketing materials, and services to continuously grow sales through our North America distribution network. In addition we have to be certain that all market segments are covered, and we maintain our lines of communication from manufacturer, to distributor, to dealer, contractor, A&D, etc.
C.B.: What do you love most about tile?
While in college I was offered a part time job at a tile store and the old saying is "if you stay in the industry for two or more years you are a lifer".
The things that really engaged me in tile were continuous improvements in technology, style, design, manner of marketing, and new markets. Every year has been extremely exciting and always new and refreshing. It definitely keeps you on your toes. But I truly love it.
C.B.: How does online fit into Florida Tile's business?
We feel through education we can empower the consumer to make an intelligent decision.
When you visit our website we provide the end user with an online tile catalog, tile inspiration gallery, tile finder, tile video gallery, and tile installation and care instructions. We then can recommend the end user to a local supplier.
C.B.: Which of the online resources you use for your business do you find most effective and why?
The most effective means for us is to continually update our website with room scenes and great information so we can educate them, and finally direct them to a local professional showroom.
We also supply information to our prospective customers through Facebook, Twitter, Pinterest, YouTube, and LinkedIn.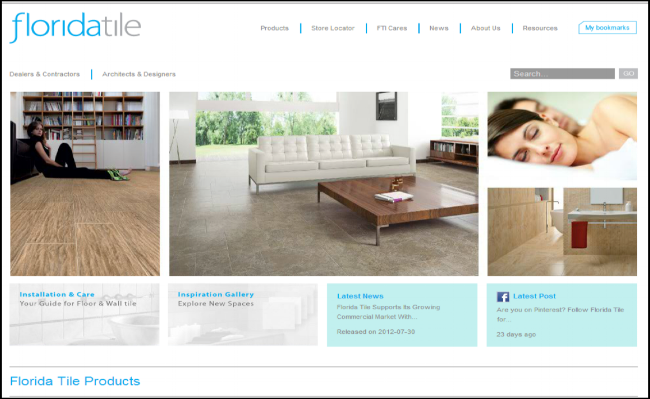 C.B.: What is your opinion on selling tile online? Why?
We are pro Internet and social media. In order to communicate with the ever changing markets you need to be progressive as a company and continuously changing your communication approach to each market.
Both Florida Tile and I feel you need to select and view your tile at a local professional showroom. Showrooms provide an indelible service to the consumer guiding them through some of the challenges of style, design, shade, lighting effects, so that consumers can achieve their "dream area". In most cases a consumer remodels or constructs a kitchen, bathroom, hall, etc., only a few times in their lifetime. Why wouldn't you want to have a local professional showroom work with you to achieve your dream?
C.B.: What advice would you offer someone who wants to get started online with tile?
I always tell anyone who asks this question to initially go to reputable tile websites where they can view products, room scenes, get ideas, understand about shading, get educated, and to also narrow down their dream for the area they are covering.
On good websites the manufacturer would direct you to a local dealer so you can view tiles, sometimes in vignettes, concept boards, panels, cradles, and loose pieces so you can see and coordinate your dream. You can also educate yourself on:
Whether the products are made in the US (support American workers),

Is the tile certified (PTCA Porcelain Certification),

Does it have the specifications that you need, and finally

Is the product Green (Green Square Certified).
You can get a vast amount of information before you even enter a professional showroom. You short change yourself if you purchase from an online retailer. If you have a problem or question who do you go to when they do not even list their address or contact information other than an email address?
C.B.: Dave, how can you and Florida Tile be reached online?
You can find us at www.floridatile.com, on Facebook, on Twitter @FloridaTile, Pinterest, YouTube and Linkedin.
If you need any additional information you can always email me at dave.milanowycz@floridatile.com.
C.B.: Thank you, Dave! I look forward to our panel discussion!
What is your take on selling tile online? How do you use the Internet in your business?
I hope you'll join us at Coverings 2013 in Atlanta on Wednesday, May 1 from 3:15 to 4:15pm forSelling Tile: the Internet, the Industry & the Consumer. Registration is free!