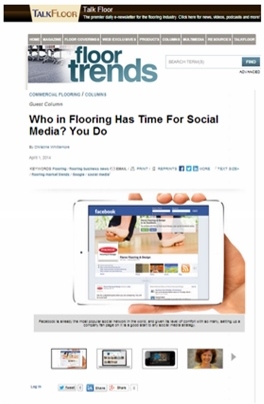 Do you make time for social media? Many business people wonder how to find the time - particularly in flooring. They bring it up repeatedly during presentations and in conversations about digital marketing, getting found online and embracing new marketing habits.
Matt Spieler from Floor Trends brought it up, too, when he invited me to contribute an article, after Surfaces 2014.
The article, which appeared in the April 2014 issue of FloorTrendsMag.com, is titled "Who in Flooring Has Time for Social Media? You Do." I'd love your reactions to it. To read it in its entirety, you'll need to register (it's free).
Who has time for social media in flooring?
In the article, I make the point that, as a business person, finding time for social media means that you can become part of how prospective customers connect, interact and gather information.
Every business person in flooring should take such an opportunity to heart!
According to GE Capital as well as Google, getting found online matters (see Data on Why 'Get Found Online' Matters in Marketing: ZMOT, Pew, GE Capital and Why Bother With Social Media Marketing Strategy?). 80% of shoppers start the purchase process online; they'll educate themselves intensely about purchase options before even speaking with a sales associate. For that reason, you need to make sure your business can be found online so that, when they are ready to make a purchase decision, they make it with you.
The article is organized into six sections. Here are highlights.
1. Why bother finding time for social media?
Taking part in social networks has gotten much easier with smartphones. During Surfaces and Coverings presentations, I used to ask people who in the audience had a smartphone. Now, I ask who doesn't; very few hands go up.
Smartphones change how and when we interact with online data. We are no longer tethered to an office and desktop. Rather, we carry our access portal with us and can pull it out instantaneously. It allows us to check on emails and add updates. We can be human and social and interactive in between other activities, building relationships and figuring out whom we're willing to trust enough to do business with.
As much as you may regret the always-on aspect of smartphones, think of all of the unexpected benefits:
Sharing - thoughts, ideas, images, good wishes, links to deeper content and context...

Connecting with others and facilitating connections between others - even if they are far away

Educating prospects before they realize they have a need for your product or service

Bringing your business and people to life through photos, videos, words so people get to know you and trust you so they don't think twice when they are ready to do business

Being present online 24/7 whenever prospective customers are searching and researching flooring.
2. How to find time in your busy day to engage online and with social media?
If you're like me, you'll find time for social activities if they provide tangible benefits. That's how I got started with blogging: my blog, Flooring The Consumer, meant that I could gather in one digital, easily accessible public location references and resources as well as ideas about the retail experience.
Here are some possibilities for your business:
Respond to customer service questions on Google+ so there's a record of your commitment to customers.
Show how you do flooring installations, track before/after pictures and share them on Pinterest or Facebook.
Keep an evergreen list of customers' frequently asked questions and your responses on your website in an FAQ or in blog articles. Share links to those pages on Twitter.
What would you add to this list?
3. How will you need to spend your social media time?
So, once you make the decision to commit time, how will you spend it? Expect it to fall into two categories: initial set-up and ongoing account management.
For setup, you'll want to be prepared with logos, images and consistent company descriptions.
For ongoing account management, prepare a content calendar so you can consistently and regularly publish updates. Be prepared to respond to comments and questions. Plan on reaching out beyond your profile page to develop your community. Invite your staff to participate in being social.
4. How to select which social media platform(s) to focus on?
As important as it is for your business to have a presence online and in social networks, it's not possible to be on every single social media platform in existence and be effective. Resources - including time - are limited, so pick based on where your customers spend time and focus attention on doing those few platforms really well.
As a business professional, be sure to complete your profile on LinkedIn. Have your company representatives do the same; create a company description they can include in their profiles. Set up a LinkedIn company profile that all can link to in their profiles.
Definitely claim your company Google+ Local because it's tied to map results.
Then, experiment with the other social networks to determine which is best for your business using Google Analytics.
5. What tools can help you manage time for social media?
Luckily, there are tools to help manage time for social media.
(I just discovered that my SnagIt update allows me to upload via QR code any images taken on my mobile device to my desktop for editing. Sweet!)
Be on the lookout for applets and bookmarklets to Pin or share interesting links.
My favorite tools include Hootsuite and HubSpot (which has an amazing social monitoring tool). For Twitter Chats, I like TweetChat.
During the last #KBTribechat, I noticed images being shared via Twitter, Pinterest and Instagram. What you use really depends on what works for you.
Which do you find most helpful for managing your time?
6. How to be successful with social media so you maximize your time spent on it?
Although social media takes place on technical devices, the activity and interaction has to do with being human and social. The more you and your organization consider the implications, the better prepared you will be.
My rules for success on social media include:
Creating social media guidelines for your organization so everyone understands how to participate on social networks on behalf of your organization, agrees on what courtesy online means and how to interact with customers.

Participating regularly and consistently in social media.
Developing a content calendar which includes images, videos, simple updates as well as more involved ones. Your customers are a valuable source of content ideas. Think of all of the questions they ask you.
Having a goal for your social interactions which aligns with your business goals.
What would you add?
Please read the full article on FloorTrendsMag.com - "Who in Flooring Has Time for Social Media? You Do.
Then, let me know - if you are using social networks, how are you managing your time? What works best for you? Which tools are more helpful? What (good) surprises have you had as a result?
Thanks for reading!