Trend forecasting by its very nature forces customer focus. When done expertly, it identifies customer needs and preferences before they become aware themselves, enabling companies to connect in a way that generates Apple-like loyalty and passion. That in turn drives growth.
Scarlet Opus is one such expert trend forecaster and one I first encountered online in 2009 and met in person in 2010 at the International Surface Event (TISE) show.
(Here I am with Scarlet Opus co-founders Victoria Redshaw and Phil Pond at the recent TISE.)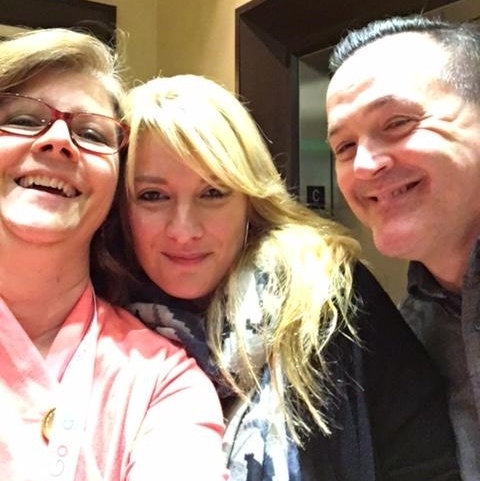 I caught up with Phil Pond afterwards to learn more about how customer-focus goes hand-in-hand with trend forecasting and how that, in turn, helps business generate successful growth strategies.
How Scarlet Opus Forecasts Trends, Translates Trends into Business Growth Strategies, Uses Social Media and More!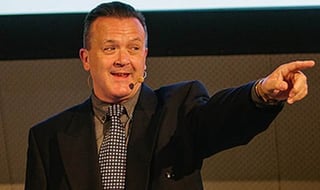 CB: Phil, tell us about your and Victoria's backgrounds.
In our corporate lives, Victoria was in a variety of design roles for manufacturers before becoming Design Director for a bathroom accessories manufacturer in the UK; I have always been in Sales and Marketing roles for international companies such as Ryobi Power Tools (Japan), ESSVE (Sweden), a High End Italian Lingerie company and Mars Inc.
(See Meet Scarlet Opus' Phil Pond.)
CB: How did Scarlet Opus get started?
As a Design Director in 2001, Victoria realised that if she knew what products her company's customers wanted, before they knew themselves, it would be invaluable design inspiration.
In researching the whole subject, she discovered Trend Forecasting… and in 2003 Victoria decided Trend Forecasting was where her passion lay and started 'Scarlet Opus'.
CB: How has the company evolved since you and Victoria got started?
When the company first started our trend boards were literally that, large pieces of thick card onto which Victoria used to draw a grid and then paste materials and images onto them! Our reports were physical books printed out in the 'home office' sheet by sheet and then Victoria used an old binding machine to assemble them!
We now literally create stunning imagery digitally, never print out anything and the final product presented to our clients makes the first one look as if it were created by a team from the stone-age!
A significant development has been in the variety of businesses that are now clients and their range of reasons for buying from us. We began life to inform the product design teams within manufacturers of any interior product about the future colors, pattern & shapes they needed to consider.
Today our clients are on 4 of the 5 continents and are retailers, manufacturers, interior designers, architects, real estate developers, hoteliers, show organizers, restaurateurs, delis and members of the trade & consumer press.
We inform these clients about the future wants, needs and desires of consumers and in the main focus on what will be 'in fashion' for the world of interiors and architecture at a given point in the future.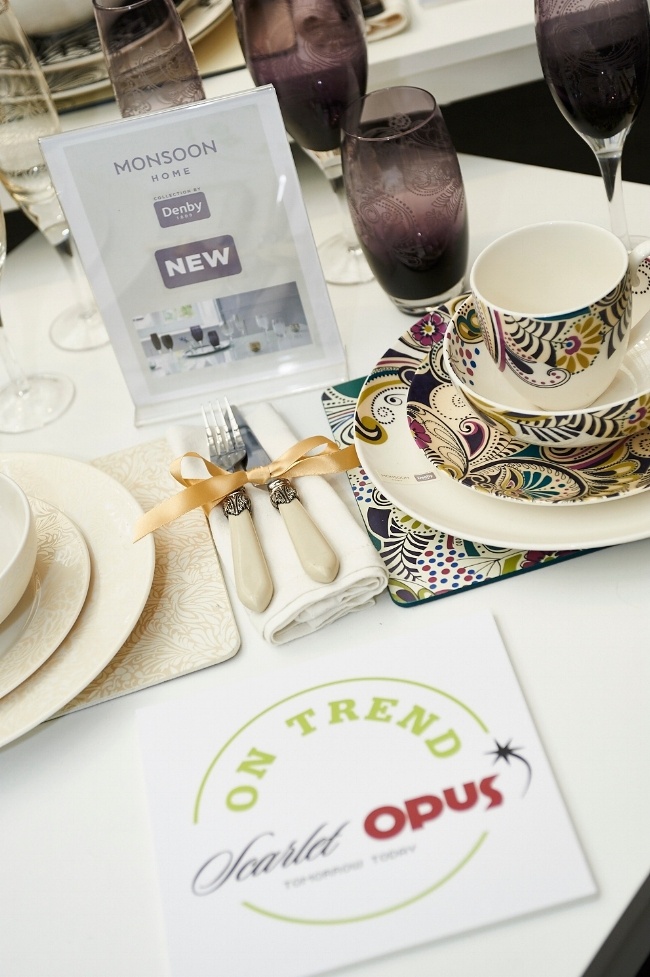 We are currently completing our report for the Spring/Summer of 2018. The reports get very specific with regards to colors, patterns, materials, textures and consumer motivations.
Our clients work with us to translate the trend information into product, customer experiences, buildings, marketing strategies and content for sales presentations. They use the trend information to train salespeople, attract prospective customers, advertising, social media content; in effect the only business function we haven't integrated with is finance!
Our very 1st client was a major UK kitchenware retailer called 'Lakeland' (now our longest standing client). We really value their support, trust and faith placed in us over the past years. Lakeland gave us the chance to build Scarlet Opus; we can honestly say that we have a genuine love for their company, team and in particular the Head of Purchasing, Matthew Canwell, a lovely human being who personally placed faith and trust in us.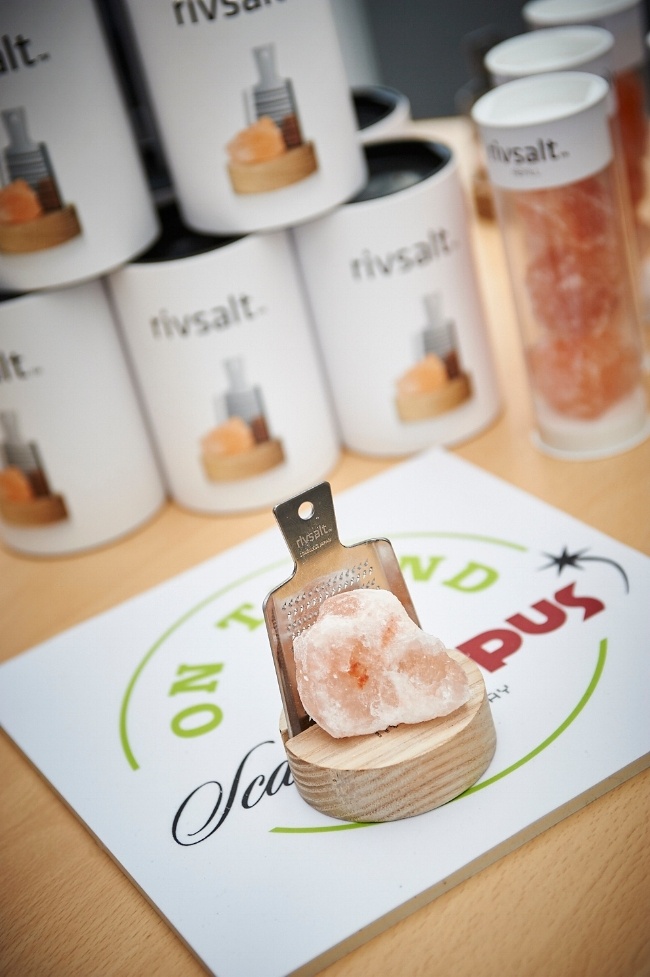 CB: Phil, on the Scarlet Opus 'About Us' page, it says about you "Translating Trends into business growth strategies for you. Anything you want to know about how to make trends work for you in your business." How does that work?
It works exceptionally well!
Consumer and Design trend information informs business firstly about why a trend will emerge, then about what will consumers be faced with, surrounded by in galleries and exhibitions, on TV, in film, blogs, printed media, etc. to reinforce the trend at the time it emerges. This will help marketers get the language right, use the right colors, etc. and align all that with what they do with the wants needs and desires of consumers all at the right time.
We've often heard manufacturers tell us why launching 'X' product in the shape, material and color we recommend won't work; they did it back in 'xxxx' and it failed. Well, using trends to lift sales and profits significantly is all about getting the timing right and that is where our translation comes in; helping the product and marketing launch at the right time. There is no point launching 'green' (color) carpets in natural fibres with florals in them, if blogs, galleries, TV and film are all showing ( and reinforcing) the look of soft flooring in historic tapestries with a faded pattern.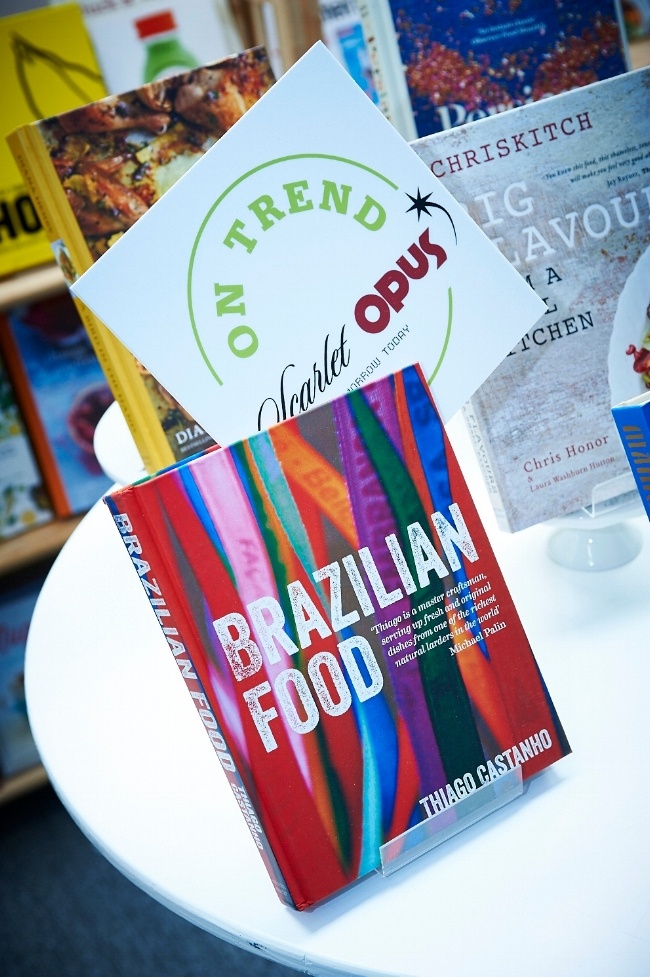 This year we will all be influenced by the carnival that is 'Brazil', Rio is the very first South American city to host the Olympic games. We'd expect BBQ foods, sharing platters, Amazonian florals and bird & fruit motifs (watch for the pineapple), bright colors, repurposed products/looks, design with energy, spontaneity all to be popular. So if you have anything like this in your product libraries, re-launching now is good timing. If you're a house developer in a good climate, this is the year to add an outdoor kitchen (they can be done very cheaply) and watch the number of houses you can sell rocket, at higher margins!
Launch the right product, at the right time, every time is what 'translating design trends' is all about.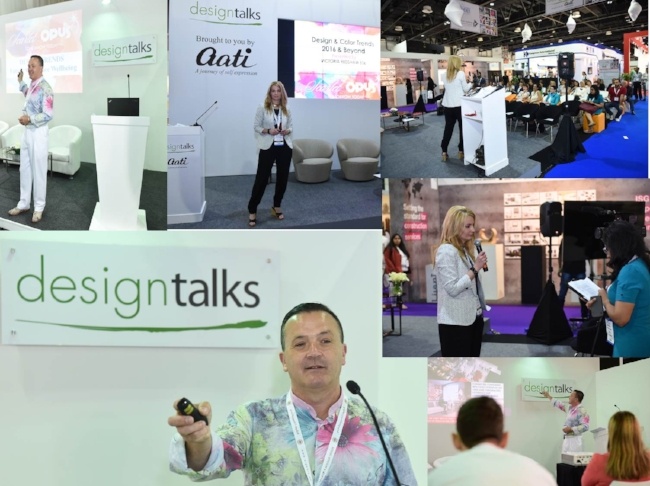 CB: Phil, what are some examples of how you've helped clients make trends work for their business?
Each year at TISE West, we design and curate a Trend Hub for the organisers; it's a show feature for the visitors. A place where visitors can sit, chat, work & network. They can pick up free Design Trend information about flooring over the coming 18 months and this feature is now in its 9th year with visitor numbers to it growing each year.
In the past 5 years Le Creuset UK have commissioned seasonal trend reports from us translated into their product sector; they have radically changed the way in which they market to consumers now. Instead of their marketing strategy being 'product focused' it is now entirely 'Trend focused'. They are sharing recipes, eating styles, table décor, cooking expertise. Their products are within their marketing, but the message is all about what the consumer can do with their products to enhance their lifestyles. The themes for these messages are aligned with current trends and for this summer they have a stunning programme of events, product launches and engagement surrounding life in Brazil. You can already see the Le Creuset 'Vida Brazil' summer fun on their website.
Our very first customer was (as I've said) a kitchenware retailer, Lakeland, when we began working with them they were a regional retailer in the UK with revenues ~$50m. Today they are a hi-end international retailer with revenues exceeding $200m, now that is not entirely attributable to their working with Scarlet Opus. However, we have played a significant role in helping Lakeland have the right products, at the right time, every time in several international markets.
We have also worked with a very large textures manufacturer in the USA, on the east coast, and during the past 6 years they have slowly themed all of their marketing support materials around the design trend information we present to them bi-annually and have slowly watched for any reaction from their clients. The aim was to help this manufacturer position themselves as 'design leaders' in their market sector; their textures are used in luggage, clothing, cars and by NIKE on sport shoes. Last year the Sales and Marketing Director rang me from the Far East simply to say "Hey Phil, you guys are making us look like Rock Stars! Thank you".
All of our clients launch products at a time that complimentary products and marketing campaigns hit the consumer; the leverage gained in achieving this, the significant cost reductions and sales lifts are immense. If I launch a carpet in colors and designs that fit beautifully with the latest wallpapers, furniture, kitchens, etc., haven't I just made things really comfortable and easy for the customer and what do they then think of me?

CB: What are the biggest HURDLES that your clients face? Does that vary much depending on where in the world they operate?
For the past decade, most of our clients are concerned with reducing costs and waste whilst lifting profits through sales increases or at least price increases – preferably both. There is little variance in this across the entire globe.
In short, they're looking for the holy grail – how to de-risk product development, which in turn reduces risk in every area of the business. That is what we do for every customer we have in every sector: we take the risk out of product development, take the risk out of service development and de-risk building customer experiences.
We let out customers know the absolute detail of the wants, needs and desires of their customers before even the customers know this for themselves. What we believe is really cool, is – we are never, ever wrong – ask our clients.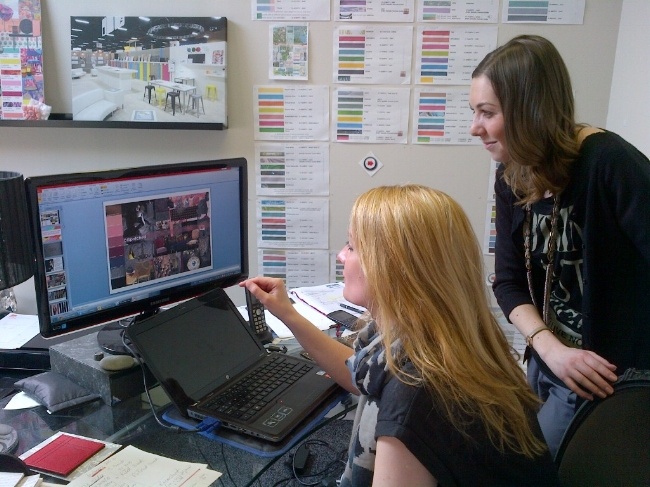 CB: What kinds of companies do you most like to work with?
We love to work with manufacturers and retailers because we can achieve so much for them.
We are at our happiest working with family owned companies because their passion is so tangible; or with a business in which this passion is within the teams that engage us. Oddly, we do very little with the flooring industry; I say odd because it is the sector of the interiors industry that has the biggest disconnect with the consumer.
(See A Woman's Worth by Phil Pond and read the comment Phil left on Marketing To Women, The Retail Experience, Manny Llerena and Flooring.)
One of our favorite areas of business is designing, curating and working features that we design for the organisers of exhibitions and events for the interiors sector. Trend Hubs, Trend Tours of shows, trend and workplace seminars, and merchandising workshops; there is so much fun and success coming from this relatively new area of business for us that we are looking to expand in it significantly.
CB: You and Victoria are the reason that TISE West/Surfaces features a Trends Hub. It's a vibrant, thought-provoking installation that brings color, texture, surfaces and ideas together. What is your inspiration? What is the reaction? How has it evolved since you first launched the hub?
This event has a special place in our hearts, genuinely, we love the client team we work with, they are so much fun, open to new ideas and experiences. We have been a part of the show now for 8 years – if invited, 2017 will be Scarlet Opus' 9th event (8th trend hub) and before that when we owned a UK axminster manufacturer and were exhibitors for 3 years.
Thank you for the kind words expressed in your questions, that is very generous.
Each year we sit down at the beginning of February and wait for an idea to hit us. It's an odd experience, we read our research for future trends to remind ourselves of the inspirational events that will happen around the world in the coming 2 years and chat, we talk for hours. Then, (so far anyway thank goodness), an idea comes to one of us, excitement grows and the idea is built. I apologise for not being able to explain it any better than this, but that's the truth of it.
As each year has gone by the trend hub design has been more interactive and as this has happened, the visitor numbers to it have increased and the written reaction over the past couple of years has been, well, very satisfying. The best year-on-year development has been the level of interactivity.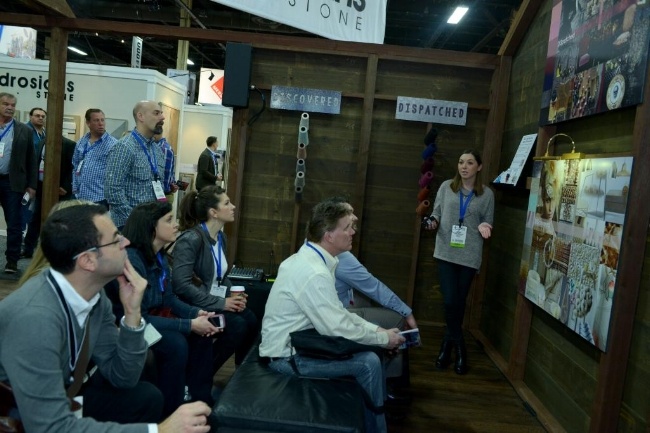 (See Top Tile Trends: Hexagon, Wood, Marble, Patterns and Gold! for additional perspective on the Tends Hub.)
CB: How do you use social media?
Every single day.
There are Scarlet Opus accounts with Facebook, Twitter, Pinterest, LinkedIn, Instagram, YouTube and the Scarlet Opus blog is in its 12th year.
We devote, literally and honestly, far too many hours each week to Social Media. We enjoy it, we're beginning to get good at it and we're starting to drive engagement. It has taken us several years to be able to make that statement!
We share commercially valuable information on all of our social media accounts, we did so right from the beginning, at a time (2007) when many were telling us we were mad and we'd rue the day we gave information, advice, help for free.
Well, it's true to say that we're only aware of gaining 2 clients from our activities on Social Media. But, we have a built a company reputation that is bigger than Scarlet Opus will ever be; we have so many friends, people we truly call friends made from this activity. Some we have met and some we haven't.
(See Content + Context For Customer Relevance and Relationship and How Business Blogging Fits Into Inbound Marketing.)
Scarlet Opus shares Trend information with more than 10000 people each month, designers, architects, retailers, manufacturers but most importantly, they're all beautiful human beings we never knew before. That is reward enough.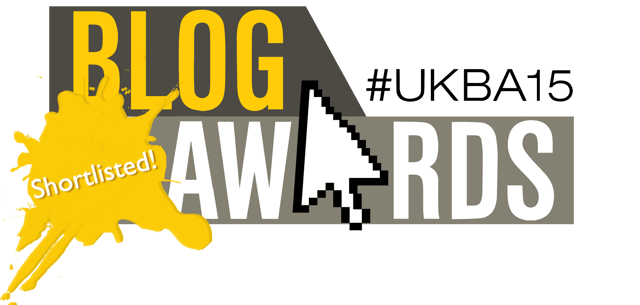 There are many experts that will most likely use this as a great example of 'idiots let loose on SM', a business making bad use of it. But we are a small company started in a bedroom that then moved into a garden shed and now, we are a small with real friends across the world.
How rich can a group of people be?
CB: Which are your favorite social networks? Why?
Great question.
Phil's favorite is Twitter because you don't have to concern yourself with being professional, you can have fun, be serious and share an eclectic mix of stuff. But then, he's old.
Victoria's is Pinterest because she can get a huge number of truly inspirational images and ideas on her laptop screen fast and whenever she like. She also loves the 'board building' on Pinterest. We always advise people who want to try to 'get a handle' on future trends but, who are not Trend Forecasters and don't want to work with one, go on Pinterest. This is where consumers around the world publicize their aspirations for interiors. Pinterest gave savvy interior designers a 'heads-up' about the resurgence of parquet flooring a good 12 months before it really emerged.
Laura Greenwood loves Instagram, its very community based, a sort of 'Pinterest plus' and of course, it's where the majority of designers of her generation are – those pesky Millennials :).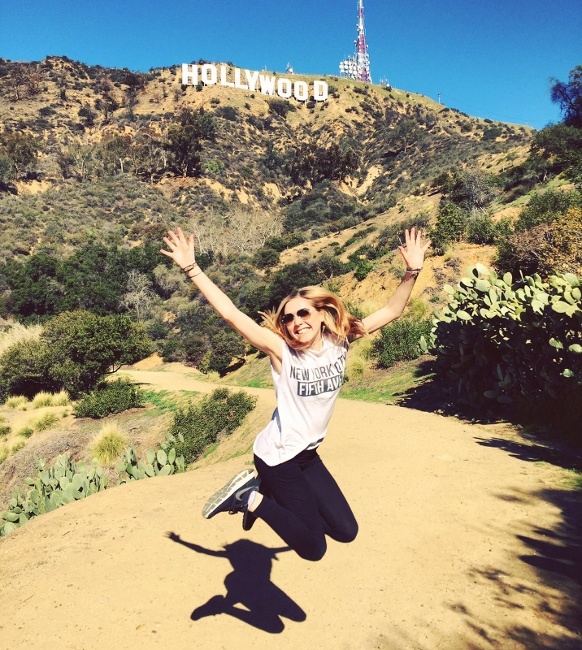 CB: What digital tools do you use for your business?
The most important thing we have is smartphone cameras for photography and video.
Our most creative software is Indesign and Photoshop and our most competent, stunningly creative user is Laura.
We use laptops, tablets, smartphones and the Cloud, we have no PCs or servers.
However, Phil loves being able to handwrite postcards to customers, Victoria loves sketching Trend Hubs and painting props and Laura adores window merchandising.
CB: Which are your favorite sources for new ideas?
Universities and schools. Young human beings who have not yet been tainted with the constraints of commercialism are truly inspiring.
CB: What do you do in your vast spare time?
We don't strive for a work-life balance because Scarlet Opus is a part of us.
We travel for work and life (enjoying the USA immensely; 50% of our business is in the US now), we meet people, loads of them, for work and life.
We go to galleries and exhibitions and visit the theatre for both. Phil and Victoria are movie fans, loving Kate Winslet, Ricky Gervais, De Niro, Hanks, Pacino, Eastwood, Emma Thompson, Hoffman and Audrey Hepburn.
Laura is young and she devours new experiences, loves the travel associated with our work and spends a lot of time 'creatively.' She is the producer of quite stunning digital visuals for the past few months. Laura has been escaping to Calgary in Canada as much as she can.
Saving the most important for last mention; all 3 of us have strong family ties and cherish those moments as we do those times with the Scarlet Opus team.
CB: How can readers reach Scarlet Opus?
However is easiest for them. Our emails are firstname@scarletopus.com / the Studio telephone is +44 1482 870 360 / @scarletopus / Facebook / LinkedIn and Phil's cell number is +44 7896 088 996.
CB: Phil, thanks very much for providing us with such valuable perspective on how trend forecasting truly helps businesses be strategic and customer-focused about growth.
What's your take on trend forecasting? How do you go about anticipating your customers' wants and needs far enough into the future that you can adapt your products and services?