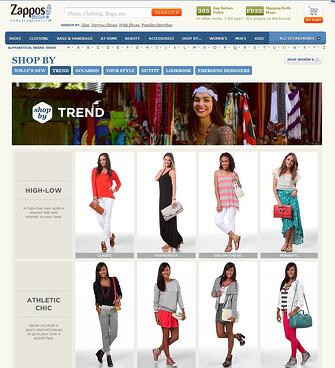 Zappos' website - aka its online retail experience - strikes me as being 'powered by customers'. Would you agree?
I've written frequently about Zappos and its fierce focus on customers and how it embodies the notion of 'powered by service.' Zappos has truly redefined customer service, making use of traditional [i.e., the phone] and digital social tools [i.e., Twitter, Facebook, blogs...] to connect with and engage customers. But, what about the Zappos.com website?
Based on a recent visit to the Zappos website, I observed an online retail experience intensely powered by customers.
Starting on the Zappos.com home page, I noticed a section titled 'what our customers are saying' which refers to customer reviews. Talk about defying conventional wisdom by including so much content! However, it's relevant to customers and infinitely credible. You'll find similar customer reviews included throughout the website across a multitude of product categories.
Prominently featured above the fold on the home page is a banner image which showcases opportunities to shop by occasion and trend [you'll find a few more options]. What I find intriguing about shopping by trend - in particular - is that a trend has less urgency than an occasion. It's less utilitarian than having to find rain boots or flip flops. Shopping by trend is in invitation to browse and get ideas. It's a way to appeal to someone who may not be ready to buy that very instant, and to connect so that she returns again and again, and buys in the process.
Many retail websites focus intensely on buying and buying now. They don't address the future buyer, the one who is still in education or buying mode. The Zappos site offers options for that customer who's still considering her options. Rather than run away as fast as I can, the Zappos site invites me to stay and explore.
Further signs that the Zappos Online Retail Experience is 'powered by customers':
Click on an outfit in shopping by trend and you're taken to a page where each item from the outfit can be purchased, with a reminder about Zappos' free shipping both ways and 24/7 customer service. Talk about eliminating friction and anxiety. Talk about thinking of the purchase process from the customer's perspective.
I invite you to go explore the Zappos.com website retail experience. What are your reactions? What might you apply to your own organization?