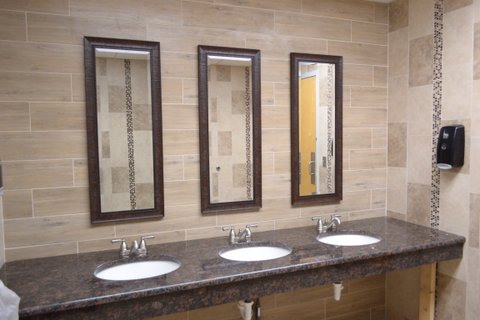 Kudos to my friend Bethany Richmond for uncovering an independent study which states that dirty restrooms lead to lost business.
It's even more powerful when another study - Restroom Cleanliness Impacts Facility Perception - states that "86 percent of U.S. adults equate the cleanliness of a restaurant's restroom with the cleanliness of its kitchen. The survey also revealed that 75 percent of U.S. adults would not return to a restaurant with dirty restrooms. Regardless of industry, clean restrooms directly impact a business' ability to attract and retain customers."
That's music to my ears. Especially when a Bathroom Blogfest has taken place. Regardless whether the stats have to do with a restaurant or a retail environment - bathrooms affect the retail experience.
My poster child in all this is Tile Outlets of America's Fort Myer store. [See New Bathrooms for Tile Outlets of America Fort Myers: Bathroom Blogfest.] They definitely get it. They get that they don't want to lose 45% of their traffic who might be offended by boring, dirty-looking, uninspiring bathrooms. They appreciate that their bathrooms are part of their store's retail experience. They are counting on their "restrooms having become an extension of the Inspiration Center and another way to help customers visualize what they can do in their homes."
That's a big deal!
As Michele Hoover from TOA stated, "Even though the old restrooms were cleaned three times a week by an outside service they never felt clean because of the worn condition. I think generally customers relate the cleanliness and overall condition of the restroom to the rest of their visit and the type of service they expect to receive. Now customers can enjoy bright, clean, and stylish restrooms."
Another retailer friend explained to me that bathrooms in a retail environment are the one space closest to a customers' home [see A Store That Floors: Aggieland Carpet One Floor & Home]. By focusing attention of bathrooms, you communicate to customers that you know what's important to them and that you can help them.
What's your experience as a customer?
What's your customer's experience of your retail space?
Let me know.
Especially if you disagree!