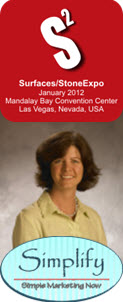 If you attended Surfaces 2012, what did you think? I enjoyed my three education sessions as described in Surfaces 2012: Getting Found Online, Social Media, Marketing To Women and really appreciate the survey feedback, intense questions and rich interaction that took place about digital visibility, social media and connecting with flooring customers.
For each session, I conducted surveys [using SurveyMonkey]. I love doing it. It's a terrific way to get feedback from the audience prior to the event. It allows for customization of the content -- including examples volunteered from the audience to use during the presentation.
As a result, we had plenty of interaction that lasted well beyond the official timeframe of the presentations.
A few digital visibility and social media observations based on the Surfaces 2012 surveys...
Compared to last year, I noticed more responses about using digital tools to promote and support the marketing of flooring businesses. Not only did everyone taking part in the survey have a website [not true last year], but most were updating their websites more frequently than once per year.
In addition to websites, respondents mentioned using online photo albums of successful installations, online testimonials and articles. A few even mentioned online product reviews and QR codes for mobile devices.
Search engines, word-of-mouth and websites are most important for connecting with customers. Email is a favorite digital tool for communicating with customers.
Respondents use the Internet to interact with vendors, peers, employees, customers and prospects. They stated that the phone is most effective for communications.
From a personal perspective, a majority [70%] of respondents indicated they use Facebook and LinkedIn, then YouTube.
From a business perspective, the majority of respondents [65%] indicated their company uses a Facebook Fan Page. 40% indicated using a regular eNewsletter, sharing tools and product reviews. 30% say they use Twitter, Blogs, a LinkedIn Company page or Google Places.
The following chart captures the results visually and highlight how much opportunity flooring retailers and distributors have to make use of digital and social tools to improve digital visibility.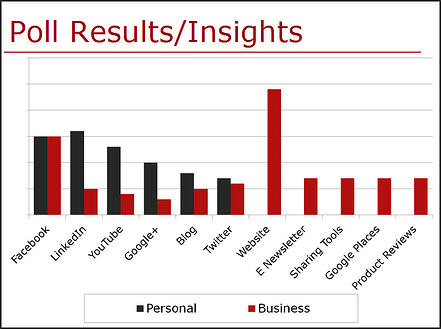 Here's something to think about: respondents indicated being more likely to survey flooring employees than customers.
"What is your biggest challenge with social media for business?"
I asked about frustrations associated with social media and digital visibility. Responses fell into two categories: managing time and figuring out how to make best use of the tools. More specifically,
How to be found
exposure
You just can't seem to be found unless someone sends you a link. I've yet to find out how to get people to follow you since most of facebook is personal communication
being more relevant than the competitor using the same practices
We want to be found easily by our past customers and prospects, we are not as concerned with the lookie loo online shoppers finding us.
Effectiveness. We don't want to annoy people.
we are a wholesaler and most of the tools are usually geared to reach end users not tile retailers
How do I use Facebook more effectively?
and
That they might take up too much of my time in the office.
Time
time consuming,
Bigger work load.
time
The time required to manage it. Finding ways to engage our customers.
Too many options....hard to keep too many things updated and relevent.
expensive
How do I find someone who can redesign my website w/o taking all my money and giving me less than nothing?
Reactions? Feedback? Do these results echo your experience? What are your frustrations? Let me know in the comments.
If you would like to access the follow up materials and resources mentioned during the sessions, simply click on the following links:
Social Media: How To For Business workshop
Improving Your Digital Visibility to Better Connect With Customers
Marketing and Selling to Flooring and Stone Power Consumers [aka Women!]
Thanks for reading!