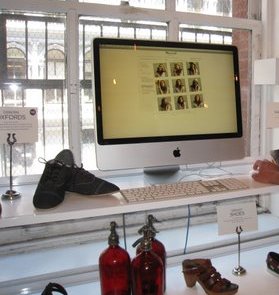 The retail experience is evolving. Whereas brick-and-mortar stores had very little to do with online retailing, customers now effortlessly go from in-store to digital experience as they go about their shopping. Sometimes, the two take place in tandem via mobile devices or because stores supplement the in-store experience with visually engaging digital catalogs [see 3 Ways Content and Commerce Are Colliding In Online Retail for catalog examples] available throughout the store.
To me, this evolution means that the in-store retail experience must be integrated with the digital one. It must also be held to a consistent high standard. Would you agree?
How would you translate that to your retail experience?
Which retailers have you noticed already doing so, and doing so successfully?
Here's one scenario based on last week's blog article interview with Manny Llerena who offered advice for retailers wanting to reinvent their retail experience and make it more appealing to women customers.
1. If you look at your retail website, how have you communicated what your business is about to your ideal customer segment? Manny mentioned "... truly defining what you want your business to be and the customer segment you want to focus on." This is just [if not more] relevant to the online retail experience.
2. How well organized is your website and how well does this reflect the value your business offers customers? Is the site clean? Does it convey the same impression your store does? Manny said "The more it feels like the inside of her home, the better you will be." You need to do this on your website. Customers need to feel comfortable spending time on your website, just as they do in your store.
3. How well do you listen to customers? If you "service [them] as if you were selling to your best friend", you will know what matters to them, and what they want to accomplish. That requires that you listen to customers. Are you prepared to respond with options and suggestions based on what you hear and observe? What resources and tools can you offer? How can you make them feel at ease? How can you convey that you and your retail experience are trustworthy?

As Manny says, "these three pieces working together in harmony will deliver a memorable retail experience to create not only immediate sales, but Customers For Life."
How do you see the retail experience evolving? What have you observed in your business as well as your personal experience? What works, what doesn't? How are you combining online and in-store to deliver a remarkable retail experience?
Let me know in the comments.