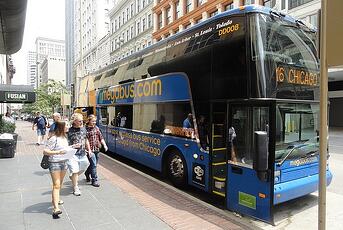 Have you traveled yet via the reinvented express bus service experience that BoltBus, MegaBus or Vamoose offer? I do so regularly and am in love with the convenience and practicality of the customer experience. I've even written about it on the MarketingProfs Daily Fix blog in an articled titled "Reinventing Bus Travel: Clean, Convenient & Connected."
I wish, though, that communication were more consistently embraced.
Over the holidays, I rode MegaBus from NYC to Washington, DC. My daughter and I had the best seats in the house: front row, top level of the double-decker bus with our own power outlets and working WiFi. After waiting an hour and a half outdoors in a downpour [we had arrived early, hoping to get on an earlier bus], we felt we had not only earned our seats, but also reached nirvana. We were warm, dry, comfortable and connected. Rain, holiday traffic, rush hour - we dealt with those happily.
Until we reached a rest-stop and learned we would stop for 30 minutes [most rest-stops last 10 minutes at most].
And discovered that our bus had stopped not at the special express bus area that offered easy and safe access to Delaware House, a really pleasant and clean Airport-like rest-stop, but instead at the truck-stop area where we had to dodge trucks and traffic to reach either a convenience store or Delaware House itself.
And found out after our 30 minutes turned into 60 minutes that a passenger had been lost... [we eventually got her back].
Our trip was originally scheduled to last 4:30 hours. It wound up taking over 6:30 hours.
Now, stuff happens - especially during the holidays, during rush hour and in the rain. However, what this Megabus customer service experience highlighted was that the following really matter! More specifically,
Owning the communication process. Think how an airplane pilot always welcomes passengers on board and sets the stage for the trip. Doing so conveys authority and competence. Our driver never did so.
Setting expectations for customers around the trip [including a 30 minute stop], from the driver [focus on safety, consistent communications], for passenger responsibilities [respect fellow passengers and driver request to return to bus], and implications [if you miss the bus]. Doing so conveys ownership and competence.** Our driver never did so.
**NOTE: This parallels how important it is to set expectations online via social media and comment policies on blogs, house rules on Facebook fan pages and rules for LinkedIn Groups.
Ensuring that drivers are equally trained, not just to drive the bus, but also to pilot it and guide passengers safely. This means that they feel comfortable communicating consistently, they understand the benefits of doing so and they fully understand that safety extends to every aspect of the customer service experience: from the drive, to where passengers get off the bus at a rest stop. Our driver didn't know where to stop at Delaware House. Others do.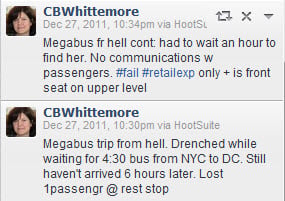 Although I described this as a "Megabus trip from hell" on Twitter, my daughter and I made it to our destination safely. We were appalled at the lost passenger situation and the truck stop experience - both unprofessional.
In contrast, on our return trip back on BoltBus, the driver welcomed us, stated there would be no stops other than to our final destination and asked us to be considerate of fellow passengers and deposit trash in specific bags.
This reimagined form of travel is still evolving. We used to be picked up/dropped off from specific city street corners. In DC, these buses now do so from Union Station. As UrbanCincy reports in The time is ripe for a central intercity bus terminal in Cincinnati [from which the image above comes], cities [including New York City and Washington DC] are realizing the benefits of intercity bus travel - as well as interstate highway rest stops [such as Delaware House].
That means more focus on delivering consistent customer service experiences from Megabus and other bus services, starting with better communications, training and consistent guidelines.
As you deliver your customer experiences, how might you ensure better communication, training and guidelines? Have you come across some good examples to use as models?