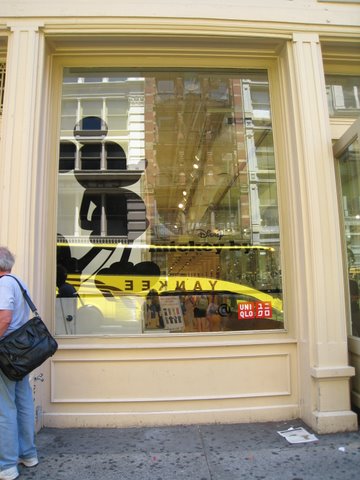 Have you heard of Uniqlo? I hadn't until I visited the Uniqlo SoHo store in June 2010 with my friend David Polinchock.
Since then, Uniqlo has opened a Fifth avenue and 34th street stores. I've encountered bold advertising in midtown Manhattan and in the NYC subway system touting Uniqlo's minimalist and 'made for all' [i.e., uni -clothes] philosophy.
Here is a radically new retail model [Uniqlo wants you to think "Apple for retail"] that offers two major small business marketing ideas worth implementing to effectively get more business.
1. Design your entire store and business around customer service
2. Offer remarkable and useful products of the highest quality at affordable prices
Intense focus on customer service
According to Can Uniqlo's Clever Clothes Refashion the U.S. Retail Market?, Uniqlo is "also working to upgrade shoppers' customer service expectations from a U.S. mass retailer... To that end, the 64,000 square foot 34th Street store boasts 500 store associates, as well as 83 fitting rooms and 36 cash registers so that shoppers don't have to suffer those dreaded long lines." Wow!
These store associates [i.e., customer advisors] are trained and tested regularly. How many retail businesses do you know of focus customer-facing employees on "six standard phrases" to use? Read more in Idea : Uniqlo's Six-Phrase In-Store Strategy.
Per Uniqlo keeps checkout line moving with queuing system, even technology gets deployed to enhance the customer service experience and eliminate typical retail pet peeves!
Highest Quality Products at Affordable Prices
From a product perspective, Uniqlo is about "component wear" with "no logos... so they can mix with other brands easily... the highest quality products at accessible prices" per Uniqlo's 'made for all' styles makes its way to Fifth Avenue.
Not only are the products of high quality, but they also are smart. Per the article above about 'clever clothes', you'll find heat-generating clothing [i.e., Heattech] and 'Japanese engineered denim' which "reflect the touch of Japanese takumi masters."
Here's more:Fashion for the People: Uniqlo's New York flagships offer high-tech clothes at affordable prices.
Visit Uniqlo's website and Facebook Fan page for a firsthand taste of the innovativeness of this company. What do you notice?
Then, think about these two marketing ideas applicable across a range of businesses: Intense customer service. Highest quality products at affordable prices.
How would you apply them to your organization?