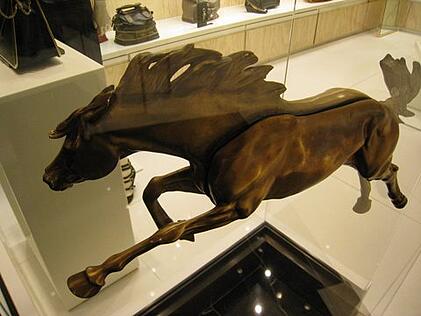 An article in VMSD titled Soul Searching: How to trigger an emotional connection with your shopper bemoans the lack of theater and excitement at retail. Excessive focus on cutting costs to increase profitability has taken the magic out of the retail experience; no magic means no connecting with customers.

Better to "be investing in the creation of a shopping experience that engages consumers emotionally to create a competitive edge that ensures long-term financial success.
The secret is to involve as many senses as possible – sight, hearing, smell and touch – in a very holistic and coordinated approach. Then you create an experience that converts a potential shopper into a loyal customer, while your brand distinguishes itself from the masses of ordinary retail operations without a soul."
Here are specific recommendations:
Using Sight for Connecting With Customers
I love this suggestion: your store is a stage; customers are the actors; your products are the stars and your visual merchandising is your scenery. Change it frequently and don't forget to add surprise. Start with your store windows and integrate every element of your store into the performance. The Apple Store comes to mind [as well as the Disney Times Square Store].
Using Sound for Connecting With Customers
Sound supports your performance. It shouldn't be too loud. The article refers to Hermes including the sound of birds and galloping horses in the background.
Using Smell for Connecting With Customers
Scent reinforces the overall performance in a subtle way [think how evocative that 'new car' smell is]. "Less is more". [Read Scents and Sellability.]
Using Touch for Connecting With Customers
Testing products, touching them, feeling them - these are all ways to engage customers and connect with them [and even moreso if the test products include evocative scents e.g., hand lotions].
The benefit in using senses for connecting with customers is that you give them reason to relax, to linger and get lost in your retail experience. The longer they stay, the more likely they are to buy...
As I head off to Las Vegas, I'll be on the lookout for examples beyond the visual stimulation of wild carpet designs [see Vegas Carpet: Surreal, Intense and Addictive?].
Which are your favorite examples of using senses for connecting with customers at retail?
Let me know!