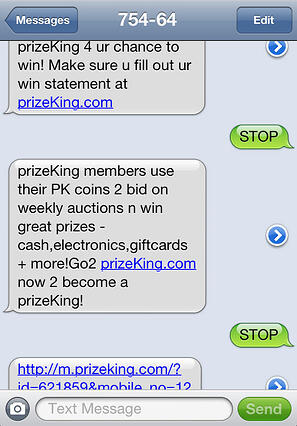 For organizations wanting to get more customers, I recommend offering visitors and customers the option to opt-in to email and text messages rather than automatically enroll them in communications from you.

An opt-in email or text is much more likely to make them happy with you and willing to hear from you regularly.

Although this seems like a no-brainer to me, let me explain my logic.
Opting-in to Email Marketing or Text Messages Makes Customers Happier!
Over the holidays, I narrowly escaped getting subscribed to text messages from Sears as I completed a purchase. My only salvation was asking the somewhat surly cashier about a pre-checked box on the digital credit card signature device.

Imagine the damage Sears would have done to its relationship with me had I not realized its stupidity! I am not subscribed to any kind of texting service through my phone carrier. [Many people in this country aren't either.] Which means that for each of Sears' unsolicited text messages, I would have been charged money.

For the privilege of paying for Sears' messages, I would have gotten increasingly angrier since I never asked to receive text messages and the text messages couldn't possibly have any relevance to me.

[See How Not To Get More Business: 7 eMail Retail Experience Horrors! for additional email perspective.]

As it is, I consider Sears' understanding of its customers and appreciation for digital marketing tools to be naive - at best. However, having escaped, I'll simply tread cautiously around them and remember forever what they were willing to do to a customer.
Don't Assume. Ask for Permission!
Imagine a different scenario. As I checked out, the cashier invited me to receive either text messages or emails [my choice] about upcoming sales relevant to my purchase. I could opt-in to receive daily, weekly or monthly messages with discounts available only for those customers who opted-in.

I would have willingly signed up for the monthly email communication - to check it out.

In other words, as it relates to interactions with customers, it's critical for retailers and businesses to:
Ask permission to communicate with them on a regular basis
Explain what's in it for them
Offer them the opportunity to easily remove themselves
From a digital marketing perspective, a marvelous solution for getting more customers comes from using website landing pages which invite visitors to learn more about offers such as signing up or opting in to email [or text] communications and provide them with tangible reasons for doing so.
Asking for Permission Starts a Conversation with Your Customers
In a real-life retail environment, the same can be accomplished by explaining verbally the benefits associated with the invitation.

Interestingly, in doing so you invite customers and visitors to provide you with feedback and perspective - which in turn might help you fine-tune your offerings.

What's your reaction to being duped into email or text messages? What have you found works best in convincing customers to opt-in to your communications?