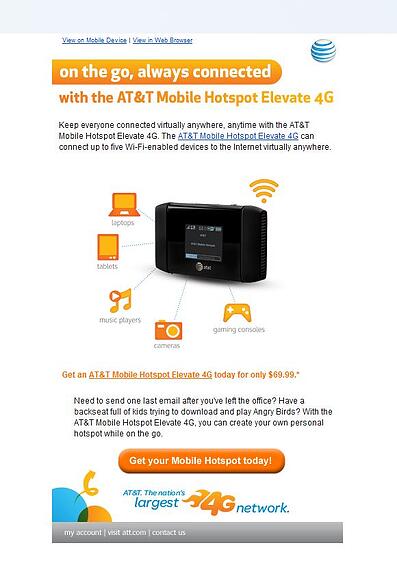 When you create email communications about your product and service offerings, how carefully do you think about the customer experience? Do you anticipate each digital step or do you create a nightmare and abuse customers?
Based on a recent poor experience, I recommend that you take to heart 3 customer experience tips to ensure you don't abuse your customers.
My customer experience abuse example
Last week, I received an email from AT&T with an intriguing title: "Bring Wi-Fi With You Wherever You Go". Given that I'm often on the go, with Wi-Fi only enabled devices, the subject line spoke to me as business professional. I opened the message and clicked on the call to action button "Get your Mobile Hotspot today!"
Only to be disappointed.
I expected to be taken directly from my email inbox to an AT&T landing page focused exclusively on the AT&T Wi-Fi Mobile Hotspot.
The reason for this expectation? The email subject line mentioned Wi-Fi. The image in the email displayed the AT&T Mobile Hotspot Elevate 4G with a Wi-Fi logo. The call to action specifically referred to getting the Mobile Hotspot. All of the critical email clues pointed to the Mobile Hotspot.
[A landing page, by the way, is a powerful lead generation and digital customer experience tool. It is a website page where your site's regular navigation has been removed so as to focus entirely on, rather than distract from, the offer proposed - in this case, the Mobile Hotspot device. A landing page provides the visitor with essential information about and compelling reasons for engaging further with that product or service. As an example, here is the landing page for my 10 Tips for Getting Started with Social Media offer.]
Instead, the call to action button took me to an AT&T website page with a jumble of products and services to choose from [and with 'netbooks' in the URL].
Not a single image or header jumped out or matched the clues from the email. As you might imagine, I became frustrated, shut the web page down, fired off a response email which generated an auto-reply saying that the mailbox isn't attended and to check out AT&T's most frequently asked questions - none of which were relevant to the original email message.
At this point, frustration became intellectual curiosity and disbelief that an organization as sophisticated as AT&T could so misalign digital customer clues. [BTW, I am a long-time AT&T customer and have no complaints about their service.]
I returned two more times to the website to figure out this puzzle and finally discovered a tab titled "mobile hotspots" which I have highlighted in yellow. Eureka!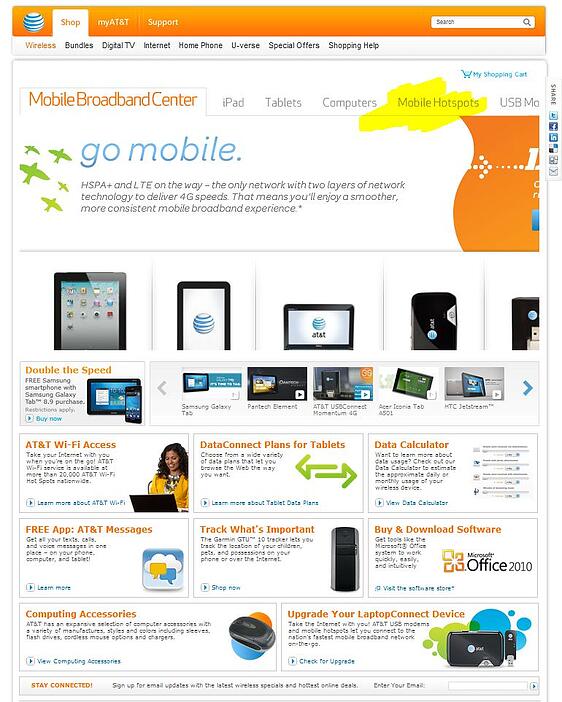 Once there, I found information supporting the $69.99 cost mentioned in the email. I also found links to plenty of legalese and gobbledygook about terms and agreements and penalties.
However, I was unable to find information about monthly Wi-Fi rates and subscription plans for this Mobile Hotspot gizmo [at one point I was asked to log into my account, which I wasn't interested in doing]. This was curious when the device, as with a phone, requires a plan to operate. So why not address that natural question?
Imagine how abused a customer would feel...
Here, then, are my customer experience tips.
3 Customer Experience Tips to Avoid Abusing Customers
1. Don't make your customers work to find your products and services, especially when you have invited them to check you out! The harder you make it [i.e., the more friction you create], the faster you will lose them. The more time you cause them to waste, the more they will feel abused. Wasting a customer's time is the epitome of rudeness and disrespect.
2. Keep it simple for your customer. What are the specific steps or actions you would like each to take. Anticipate what happens when each step or action is taken... Is the next step to take obvious?
3. Think of your customer as a specific person. You are more likely to be thoughtful and considerate in how you communicate if you think of your customer as a person. Imagine him or her across the table from you as you explain WIIFM and anticipate questions and concerns.
What would you add to these three tips?