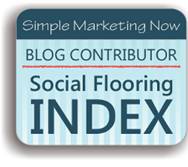 Perhaps you are aware that I've been monitoring the 'social state of flooring' via the Social Flooring Index officially since 2009.
What I also started doing as of November 2011 was to pick blogs which I have included in the Social Flooring Index and review them on regular basis.
Why? Because I'm curious to see how floor covering organizations are making use of blogs - especially since they are so powerful for getting found online - to express humanity and passion for products and industry to readers.
Since we can no longer just rely on the physical retail experience to connect with customers, we must bring in the digital and social worlds. These flooring blogs represent organizations that have taken the digital and social plunge. It's really exciting!
Since getting started with these Social Flooring Index Blog reviews I've examined 11 blogs and shared highlights of each in individual blog articles as follows:
I invite you to check out these articles so you can learn about [and from] these blogs.
If you're considering getting started with a blog, you may find these two articles helpful:
Will you let me know your reactions?