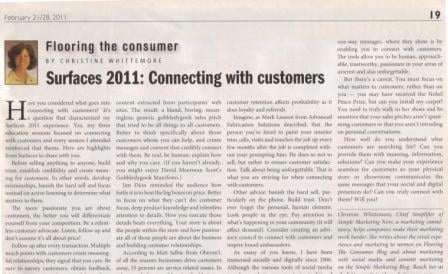 Although about Surfaces 2011, the insights captured in this Floor Covering Weekly article, published in the February 21/28, 2011 issue remain relevant to this day, particularly if you are serious about connecting with customers!
Let me know if you agree.
Surfaces 2011: Connecting With Customers
By Christine B. Whittemore
Have you considered what goes into 'connecting with customers'? It's a question that characterized my Surfaces 2011 experience. Yes, my three education sessions focused on connecting with customers. However, every session I attended reinforced that theme. Here are highlights from Surfaces to share with you relating to 'connecting with customers'.
Before selling anything to anyone, build trust, establish credibility and create meaning for customers. In other words, develop relationships, banish the hard sell and focus instead on active listening to determine what matters to them.
The more passionate you are about customers, the better you will differentiate yourself from your competition. Be a relentless customer advocate. Listen, follow up and don't assume it's all about price!
Follow up after every transaction. Multiple touch points with customers create meaningful relationships; they signal that you care. Be sure to survey customers, obtain feedback, address issues in real-time and learn from every interaction.
Be unforgettable! In your follow up, in your retail experience/store, your focus on customers, your online experience, your emails and communications.
Marty Gould from Focalize illustrated the value of making meaning for customers with a radio spot he created based on web content extracted from participants' websites. The result: a bland, boring, meaningless, generic gobbledygook sales pitch that tried to be all things to all customers. Better to think specifically about those customers whom you can help, and create messages and content that credibly connect with them. Be real, be human; explain how and why you care. [If you haven't already, you might enjoy David Meerman Scott's Gobbledygook Manifesto.]
Jim Dion reminded the audience how futile it is to beat the Big Boxes on price. Better to focus on what they can't do: customer focus, deep product knowledge and relentless attention to details. How you execute those details beats everything. Your store is about the people within the store and how passionate all of those people are about the business and building customer relationships.
According to Matt Selbie from Opiniator, of all the reasons businesses drive customers away, 55% are service related issues. In other words, by not addressing fixable issues, businesses force customers to defect. Even though 95% of companies collect customer feedback, only 30% make decisions based on that customer input and the majority never let customers know that action has been taken as a result of the feedback. Address those service issues and you'll connect with customers! By the way, customer retention affects profitability as it does loyalty and referrals.
Imagine, as Mark Lauzon from Advanced Fabrication Solutions described, that the person you've hired to paint your interior trim calls, visits and touches the job up every few months after the job is completed without your prompting him. He does so not to sell, but rather to ensure customer satisfaction. Talk about being unforgettable. That is what you are striving for when connecting with customers. Other advice: banish the hard sell, particularly on the phone. Build trust. Don't ever forget the personal, human element. Look people in the eye. Pay attention to what's happening in your community [it will affect demand]. Consider creating an advisory council to connect with customers and inspire brand ambassadors.
As many of you know, I have been immersed socially and digitally since 2006. Although the various tools of social media can be used to communicate traditional one-way messages, where they shine is by enabling you to connect with customers. The tools allow you to be human, approachable, trustworthy, passionate in your areas of interest and also unforgettable.
With a caveat. You must focus on what matters to customers, rather than on you [e.g., you may have received the Nobel Peace Prize, but can you install my carpet?]. You need to truly 'walk in her shoes' and be sensitive that your sales pitches aren't spamming customers or that you aren't intruding on personal conversations. How well do you understand what customers are searching for? Can you provide them with meaning, information, solutions? Can you make your experience seamless for customers so your physical store or showroom communicates the same messages that your social and digital presences do? Can you truly connect with them? Will you?
------
Comments, reactions? What have you implemented to connect with customers since Surfaces?