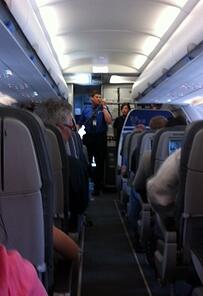 Have you flown JetBlue yet? I had my first experience with the airline last week traveling to and from Orlando. I haven't stopped thinking - and talking - about my reinvented airline customer experience since then.
Continental used to be how I measured superior airline customer experience. I regularly witnessed staff collaborating to speed up boarding or deal with unavoidable weather delays. I appreciated how all overhead bins had been redesigned to accommodate business traveler rolling suitcases. I loved the clever advertisements that called attention to flyer needs.
All that is gone since United and Continental have become one. Snacks require a credit card, as does basic inflight entertainment. Representatives seem unhappy. Even the clever ads have ever so subtlely changed and now proclaim superiority and might, rather than celebrate how to enable the airline's customers to do more.
On JetBlue, I checked a bag for free. That immediately got my attention.
Encouraging bags to be checked directly affects the boarding process. Not only were the JetBlue overhead bins not crammed with bags that should have been checked, but even though I boarded at the end of the process, I had no trouble finding overhead space above my seat! Furthermore, boarding was quick and pleasant.
JetBlue offers more legroom. Inflight entertainment is free, unless one wants a premium movie.
Adding to the JetBlue airline customer experience: an interesting selection of free snacks, some of which I had never tried before, served from baskets!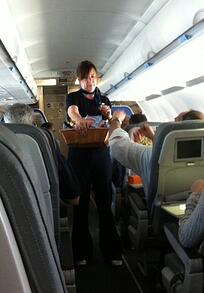 I was offered a full can of seltzer rather than just a glass. I asked for lemon - assuming the answer would be "no fruit" and was offered a packet of True Lemon, a product I had never experienced before!
When I asked for coffee, it was served with a lid...
By the ways, drinks were served from a tray rather than from a utilitarian cart.
On the first flight of my JetBlue roundtrip, the captain came out of the cockpit to greet us [see image above]. I don't remember that ever having happened before.
Although pillows and blankets on planes are now mostly a convenience of the past, had I wanted a set, I could have purchased one to keep.
Finally, I tweeted about my free Jetblue checked bag and was immediately acknowledged.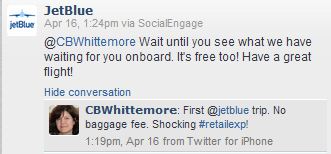 I fly primarily for business now. Although I love to fly and have great memories associated with airplanes and airlines, I regret how 'unglamorous' and utilitarian the airline customer experience has become. For the most part, it has become an unpleasant necessity.
Imagine being as pleasantly surprised as I was last week by JetBlue! Hard to believe, no? Not only was I not nickel and dimed, but I actually relaxed...
Now, imagine doing something similar for your customers. How might you add a human touch? What about a dose of innovation? How might you bundle aspects of your customer experience?