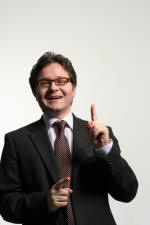 During BRITE '12, Columbia Business School Professor Bernd Schmitt introduced "Happy Customers Everywhere", his latest book. He provocatively asked whether happiness is a function of simply removing pain points from the customer experience, or is there more?
Intuitively, ensuring that customers are happy makes sense to me. Amazon makes me happy; I return to it for more. Zappos knows that Happy Employees Deliver; their happiness is contagious. Schmitt's focus on customer happiness clicked immediately. I wanted to hear more!
Thanks to BRITE's Matt Quint, and in anticipation of One Happy Book Launch: An Evening with Author Prof. Bernd Schmitt on 5/2/12 (co-sponsored by the Columbia Business School Alumni Club of New York), I caught up with Schmitt to learn more about Happy Customers Everywhere.
C.B.: Schmitt, what is the big deal with customer happiness? How does it benefit businesses?
Customer happiness is more than customer satisfaction or loyalty. It is the emotional bond between a customer and a business, and thus a much more powerful relationship.
It greatly benefits businesses and their brands. Happy customers go out of their way to find a product. They will not compromise; they want a particular brand and only that brand. And they recommend the brand to others, via word of mouth, or nowadays actively in social media.
C.B.: If money alone isn't enough to guarantee happiness, how do you convince companies intensely focused on financial results that they would be better served [and more profitable] if they focused on customer happiness?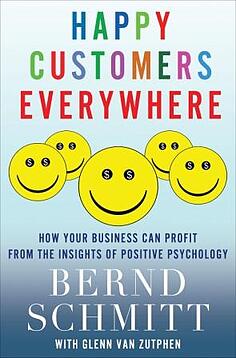 In my book I feature John Mackey, chairman and CEO of Whole Foods Market. He has made happiness the focus of his business. He says, sure, financial results matter, but shareholder value alone is not te primary focus.
In a customer-centric business, the focus is customer happiness, and then profits come automatically. I fully agree and in my book I feature other visionary leaders with this orientation.
C.B.: Schmitt, you refer to 3 methods for making customers happy. What are they and how do they differ? Is one more appropriate than another for business?
They are: pleasure, meaning and engagement. They are based on the scientific literature and research on positive psychology.
Pleasure is about positive emotions -- pleasing customers so to speak and getting them to savor the experience. the W hotel is a good example; there is always something there to experience with the senses.
Meaning is about values -- environmental values, family values, freedom, simplicity. I feature the Prius car, the Britta water filter, and uniqlo in that chapter.
Engagement, finally, is about doing new, creative things for customers to keep them engaged. The Coca Cola Open Happiness campaign is a good example.
All methods are equally valid but some work better for some categories and brands than others.
C.B.: How difficult was it finding examples to support the book's premise? What are some of those companies?
Easy. Lots of companies are focused on happiness now, and I gave several examples already.
But what does not work is just giving a company or brand the label "HAPPY" and not delivering. I have numerous examples of that as well.
C.B.: How else can a focus on happy customers benefit businesses [and society]?
Happiness is not just a customer or marketing issue in business; happiness is also important for employees in companies and for governments who want to make citizens happy.
In the chapter on employee happiness, I give advice on how to motivate employees, provide the right work environments, and get them to work well together -- so that they are happy.
Citizen happiness is not just an income or "possessions-of-goods" issue. It's important to live in countries and cities that stimulate and provide experiences. Plus, as I show, having time for yourself or spending time with others is more important than money.
C.B.: Thank you, Schmitt!
What are your thoughts about happiness and the customer experience? How do you see applying it to your business?
From the BRITE '12 Conference, you'll enjoy this video of Schmitt discussing Happy Customers Everywhere. [Note: to view the video directly on YouTube, click on Happy Customers Everywhere Trailer.]
To purchase Schmitt's book, click on Happy Customers Everywhere: How Your Business Can Profit from the Insights of Positive Psychology [links directly to Amazon].
---
While working on this article, I came come across the following 'happy' references:
[You may also enjoy Two Small Business Marketing Ideas From Uniqlo.]