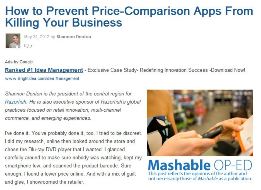 When I visited my Dad last weekend, he handed me an article from the Wall Street Journal titled Can Retailers Halt 'Showrooming'? He asked about the term and its implications for retail; I proposed that showrooming precipitates business innovation.
If you've not come face-to-face yet with the term, showrooming has to do with experiencing products IRL [in real life] in a store while using a smart phone to comparison shop that item.
As frustrating for a retailer or business owner as it is to have customers use digital devices to price shop within their store, smartphones aren't going away and neither is the desire to communicate and obtain information relevant to a purchase.
What the devices represent are changing consumer purchasing habits [see Customers, Digital Devices, The Retail Experience]. With that comes an opportunity to innovate and further differentiate the retail experience.
The term 'showrooming' has been in the news lately - some of it coinciding with Best Buy laying off employees and shutting down stores. However, as Showrooming Debunked By Sales Data: CEA details, showrooming is not the sole reason for Best Buy's difficulties.
Examples of Retail Business Innovation From Showrooming
The Wall Street Journal article above explains that, as a result of Showrooming, Target has "pushed its suppliers to offer it exclusive products that can't be found elsewhere. It also has quadrupled the number of items available online and is sending special coupons directly to customers' mobile phones."
Walmart offers its online shoppers the opportunity to pick-up orders in-store. It is also eliminating siloes between online and in-store business.
Then, there's IKEA which has an in-store retail experience unlike many others as To beat showrooming, change the showroom describes.
Retailers might also consider how to use digital devices to enhance the the showroom as explained in How to Prevent Price-Comparison Apps From Killing Your Business both for self-service as well as in the hands of sales associates.
What about this example: Word of Mouth Tip #148: Do something worth talking about in your store window?
At the heart of comparison-shopping is price. Not that that is the only buyer consideration. However, when customers don't trust the store or its associates or aren't 'ready-to-buy' [i.e., they're still gathering information and understanding how product benefits affect them], they will bring up or search on price as a way to bring meaning to the options and retain control as they educate themselves.
If they use digital devices to educate themselves via showrooming, don't fight it! Instead, re-imagine the opportunity to become part of that education process and redefine the relationship -- away from price only.
Apple, Zappos, Nordstrom, IKEA and others aren't the cheapest options around. However, they embrace opportunities to educate and build trust with customers - online and in-store. They try to offer solutions rather than just sell products, using every asset available while focusing intensely on their customers.
How do you view showrooming?