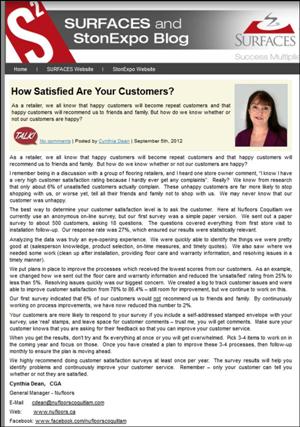 How satisfied are your customers? Do you know or, do you simply assume that customer satisfaction with you is high?
Cynthia Dean, General Manager of Nufloors Coquitlam in British Columbia, addresses this matter in How satisfied are your customers? on the Surfaces Blog.
She writes: "I remember being in a discussion with a group of flooring retailers, and I heard one store owner comment, "I know I have a very high customer satisfaction rating because I hardly ever get any complaints". Really? We know from research that only about 6% of unsatisfied customers actually complain. These unhappy customers are far more likely to stop shopping with us, or worse yet, tell all their friends and family not to shop with us. We may never know that our customer was unhappy."
Cynthia recommends - in no uncertain terms - simply asking the customer rather than guessing at customer satisfaction.
She then shares what her organization learned after conducting a first customer satisfaction survey.
It shouldn't surprise you that Nufloors Coquitlam surveys its customers at least once a year, now using an anonymous online survey.
Cynthia is amongst the wisest retailers and business professionals I have met. Definitely read her entire post.
If you'd like to read more of her wisdom, check out What Goes Into a Thoughtful Retail Experience? and Connecting With Customers: Nufloors Advice.
How do you determine customer satisfaction?
If you survey, what do you ask?
What have you learned that was most surprising?