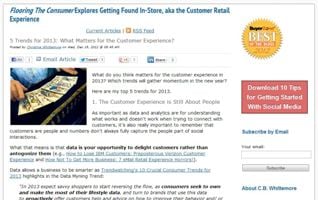 Here follow the 11 most read customer experience articles from Flooring The Consumer in 2012.
As you know, I'm partial to customer experience stories. They generate insights about connecting with customers offline and online. They also make me pay attention to my own experiences. I hope they inspire you in 2013.
The Online Retail Experience: Ecommerce Best Practices
Best Business Marketing Blogs of 2012 Include Flooring The Consumer!
Social Media Examples: Car Dealers
MegaBus Customer Service Experience: Communication Matters
JetBlue Reinvents Airline Customer Experience
Two Small Business Marketing Ideas From Uniqlo
Customer Loyalty and Satisfaction: 3 Lessons From Ace Hardware
Zappos' Online Retail Experience: Powered By Customers
Get More Customers? Offer Opt-in Email, Text Messages
Happiness and Customer Experience: Interview with Bernd Schmitt
DSW: a Retail Experience for Shoe Lovers
Thanks for reading!
Happy 2013!