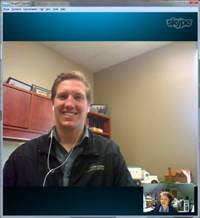 In anticipation of Surfaces 2013 and the panel discussion I am moderating titled "Social Media in Action: Retailers Share Best Practices", I got to talk to Chris Morrissette, marketing coordinator for FLOFORM Countertops.
I first 'met' Chris after publishing the FloForm Countertops Blog: Social Flooring Index Review. What a treat to get to speak to him and learn more about FLOFORM Countertops' social media marketing and the person behind it all.
As I mentioned to Chris, I'm particularly taken with what FLOFORM has done on Facebook. I hope you'll check out FLOFORM on Facebook; be sure to explore two interesting features: Spotlight and Featured Designer.
These two features highlight Architects and Designers FLOFORM works with. No surprise, these featured designer segments on Facebook have been very effective for connecting with customers and specifiers and building relationships with them.
Chris shared valuable perspective on how FLOFORM uses social media during our November 2012 Skype conversation. Although -sadly- he isn't participating in the panel discussion, I will present his insights to the audience.
Here follow highlights.
About FLOFORM's customers and their buying cycle, Chris observed:
On average, it takes 3 years to make a decision about the kind of countertops FLOFORM sells. During that timeframe, it's important to be top of mind. Social media allows you to do that in a fun, friendly way.

The majority of FLOFORM's customers are women. It's important to be aware of that. Don't just focus on manufacturing information. Pay attention to the kind of content that women enjoy and appreciate. It really helps to have women involved in creating content.

It takes time to get sales from social media. Social media is more about building relationships. A unique aspect of social media vs traditional ads is that people can share or give feedback via social media; that's the viral aspect.

Social drives traffic to the website.



Chris explained how important it is to think about customers and their experience with FLOFORM. FLOFORM does a lot in the community; it's a fun company. That comes out in social content and it's real.
Chris made these points about interactions on social media:
Customers have to care about what you publish on blogs and on social networks. (My interpretation: don't just publish anything! Make sure your content is relevant and provides context that readers will respond to.)
It's really important to come up with content that your fan base values. You cannot talk about yourself all the time.
Remember that people do social media on their own time. Last thing they want to do on their time is to be sold to. (It's very easy to hide posts in Facebook.)
You have to be different to be noticed. Boring gets you no where.
Be sure to comment as a person.
Provide real updates.
Don't get too hung up on fan acquisition. Focus on content and engagement first.

Don't just follow anyone. Make sure there's relevance.

Hew prefers not to autopost to Facebook and Twitter. The audiences are too different.
About social networks:
Different social networks fill different roles.
Twitter is more industry based rather than consumer.
Pinterest is fantastic! It offers inspiration to renovate interior spaces.

On Facebook, be sure to like o

ther businesses and brands related to you.
Chris, thanks so much for sharing your social media experiences and insights! I wish you and FLOFORM continued success and look forward to including you in a future panel discussion about social media in action.
What successes have you had with social media for connecting with customers? Which social networks do you prefer and why?