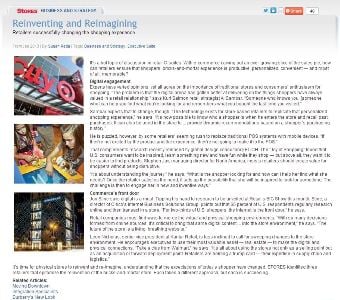 The online customer experience has become more efficient for customers than traditional retail experiences. Have you noticed? Isn't it time for reinventing and reimagining it?
Think of the difference between searching for a product, service or solution from a search window versus physically tracking it down... and not finding it.
Or searching through FAQs and interacting with live chat compared to actually locating a knowledgeable, friendly and competent retail associate to connect with.
Then, there's trust. Although the online world is at a disadvantage [i.e., we trust people over faceless organizations] compared to physical stores, reputable online businesses go out of their way to demonstrate trustworthiness with prospective customers and show the people behind the company using reviews, social content, 3rd party endorsements, generous return policies...
It's almost as if the benefits of physical retail have been taken for granted because we are so familiar with it; it's what we've been doing for eons. Why reinvent? Why re-imagine?
In the online world, if you don't provide helpful, relevant, valuable content, you don't get found in search; if products are hard to find, customers will go elsewhere; and if visitors determine you can't be trusted, you'll quickly get dissed.
In the physical world, we've gotten away with being uninspiring and unhelpful. We've not been as diligent about understanding customers. We've not been relentless in sorting and organizing products in ways that help customers find physical products.
The contrast is getting harder to bridge, particularly for customers armed with digital devices, who start the purchase process online. Furthermore, the more we [and our customers] experience effective online models, the more we are conditioned to expect more from all retail experiences.
(See Consumers Want Mobile Enhanced Retail: Mobile shoppers are expecting more from retailers according to a new study by Latitude, Next-Gen Retail: Mobile & Beyond. Smartphones and tablets aren't just making shopping more convenient and real-time; they're fundamentally changing how people think about shopping. Mobile shopping makes people feel more relaxed, productive and informed, as well as more open-minded and receptive to discovering new things, says the report.)
If Zappos can make returns painless, and Amazon can learn from my purchase decisions, and Google can help me find things - then why should I put up with unpleasant, disorganized, clunky physical experiences, with irrelevant choices and incompentent help?
And, yet, there's so much that's marvelous about physical retail experiences! The sense of discovery, of unexpected pleasure, of holding out for the perfect solution, of fully engaged senses...
This NRF article titled Reinventing and Reimagining had me thinking about possibilities for rethinking the retail customer experience and bringing together the best of both worlds.
"... The problem is that the digital arena has gotten better at delivering on the things shoppers have always valued in a retail relationship," says Kurt Salmon retail strategist Al Sambar. "Someone who knows you, [someone who] can help you find what you're looking for and remembers what you bought the last time you visited."
That complements research recently released by global design consultancy FITCH. The "Joy of Shopping" found that U.S. consumers want to be inspired, learn something new and have fun while they shop — but above all, they want it to be easier to find products. Stephen Jay, managing director for North America, insists retailers should create value for shoppers without being disruptive.
"It's about understanding the journey," he says. "What is the shopper looking for and how can I help her find what she needs? Once the retailer satisfies the need, it sets up the possibility that she will be inspired to look for something. The challenge is then to engage her in new and inventive ways."
Retail companies must find ways to merge the virtual and physical shopping environments. "With so many decisions formed from online sources, it's critical to bring that same digital content ... into the store environment," he says. "The future of the store is a living, breathing website."
(The article highlights three retailers succeeding, with vastly different models: Target, moving downtown; Build-A-Bear and Burberry.)
With so many fast-changing influences on shoppers and customers, how do you plan on keeping up? What will you do to your physical experience? How will you integrate that with your online experience?
I'd love to hear.