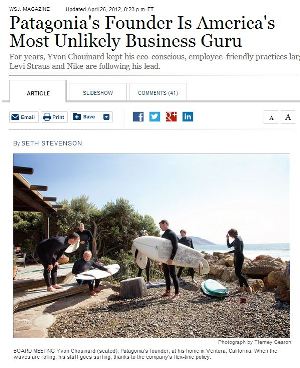 Want to experience remarkable content marketing? Check out a company with a strong point-of-view, willing to express it using digital media: Patagonia. The end result makes for an engaging and memorable customer experience!
As Digiday's Inside Patagonia's Content Machine explains, "Patagonia has long gone its own way in marketing its products. Before "brands as publishers" was a catchphrase, Patagonia dedicated 50 percent of the pages in its print catalogs to product-free, long-form essays."
The article explores many of the digital tools Patagonia uses - not to sell. Rather to express perspectives.
Visit Patagonia's various Tumblr pages. For example, Patagonia Surfing on Tumblr. Real people. Real stories. No hard sell. Perspectives, yes.
On the sidebar, you'll notice links to Patagonia ambassors featured on the Patagonia website, sharing their passion for the outdoors. For example,
Kimi Werner
. Check out her Instagram pictures!
What struck me when I visited the Patagonia website were the 6 rotating images on the home page which represent
real people
doing extreme outdoor activities and really using Patagonia gear.
These aren't models or iStock images pretending. (
Simply click on the small camera icon on the bottom right of the photo to get details.)
As the Digiday article explains,
"
Our content stays away from the hard sell," said Bill Boland, Patagonia's digital creative director. "But we are finding that our customers are interested in talking about our products. Even with the climbers out at Patagonia, customers want to know what gear they are wearing, what works for them and what does not, so that is something we are looking into for the future."
Many brands feel like they are faced with a dilemma: They can either make great content or try to sell products. Boland doesn't see it that way. He sees great content and conversations around products as something that naturally occurs, without the need for marketers to be so heavy-handed.
Patagonia is unique, too, in its willingness to take a stand. Jonah Peretti, CEO of BuzzFeed, has said that many brands struggle in content because they lack a point of view. That's clearly not the case with Patagonia. In fact, it's willing to take political stances, something the overwhelming majority of brands would run from as fast as their feet could take them."
No surprise when you learn more about the company itself (see Patagonia's Founder Is America's Most Unlikely Business Guru). Patagonia's point-of-view starts at the very top of the organization and flows through everyone at the company. No wonder it embraces content marketing which relates directly to the Patagonia customer and fan base, with a distinct perspective on how to express information truly relevant to each.
"Going forward, we'll be focusing on becoming more efficient in communicating with people in real time," Boland said. "It gives you a better sense of what customers want and the types of conversation they are willing to have."
What is your company's point-of-view? How does it relate to your customers? How do you express it in your content marketing?