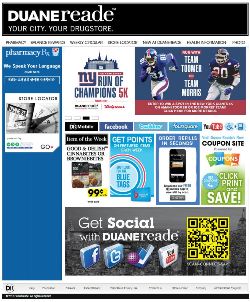 If you've spent time in New York City, you're probably familiar with Duane Reade, the drugstore chain. Your memories of that drugstore chain may be similar to mine: intensely utilitarian, not necessarily fun and certainly not a destination for relaxation or therapy. Not exactly the kind of retail experience to inspire, engage or generate much enthusiasm for.
In fact, probably one more likely to resonate with the tales described in I Hate Duane Reade: Service from Hell...
However, on recent trips through Port Authority in midtown Manhattan, I've encountered a new Duane Reade. One with wide aisles, a welcoming food section, and much more ambiance than I remember. One with a surprisingly pleasant retail experience...
The transformation was such that I was eager to read The Re-Education of Duane Reade: A Drugstore as Retail, Therapy and learn more about the reinvention of the Duane Reade retail experience.
The article offers a fascinating overview of the turnaround of Duane Reade - which ranked dead last in customer satisfaction to one where customers say it's a place for "a mom moment -- a me-time moment" or "they are like a literal urban oasis" to describe it.
How did Duane Reade reinvent its retail experience?
It's still a Duane Reade drugstore and communicates as much so that customers recognize that they are in a Duane Reade. (The same goes for the organization's website.) What's new includes:
Wide aisles so shoppers relax and stay longer (i.e., be sure to channel

retail anthropologist Paco Underhill

!)

Focus on relaxation with warmer fluorescent lighting, landscape windows and perfumerie.

Make it a triumph of

phsychographics

, "

a research field specifically tailored to the psychological states of customers in retail environments

" - aka

focus on your buyer personas

and make them very comfortable.

Note the blue, green violet color scheme because these are calming, peaceful, happy colors in marked contrast to the previous red "a

gitating" color palette

Different branding to cummunicate product quality (check out the

Food and Drink options from the Duane Reade website

).

An ambiance of safeness

And, a vastly improved social media presence, including a Twitter feed which promotes local events (e.g., local readings at Housing Works) and has developed a particularly strong following for a NYC-only drugstore!
The article specifically refers to the VIP NYC bloggers contest which, according to Collective Bias,
"drove over 47,500 brand mentions, resulting in 195MM impressions of Duane Reade content online at a CPM of $1.28 to generate the same number of impressions, and achieve similar reach in traditional media, the retailer would have had to purchase over $4.9 MM in ads at a $25.13 CPM from USA Today, for example... "
Not bad to have savvy brand ambassadors on your side!
(Also see Shopper Marketing's Duane Reade Now More Social.)
Although not specifically detailed in the article, Duane Reade's website also creates a valuable retail experience - albeit online. The website includes health information relating to food, exercise, drugs as well as links to community support groups.
Be sure to check out the new Duane Reade stores on their website. You'll find photos, valuable information and surprises. Growler bar, anyone? In fact, the local focus reminds me of another retail experience which embraces the character of individual neighborhoods... By the way, I really like on the Duane Reade's home page the invitation to speak using one's native tongue (see 'we speak your language'). The revamped slogan is "NY Living made easy".
What I find fascinating about Duane Reade reinventing its retail experience
How important to success having

a robust online presence, via an engaging and informative website and through social network participation.

The focus on having a physical presence which is memorable for good reasons and offers more than just a convenience - here relaxation and therapy

The w

illingness to address issues head on

Creating a group of brand ambassadors to help get the word out and also obtain ongoing feedback.
What's your
reaction? How might you apply what Duane Reade has done to your physical retail experience and to your online presence?