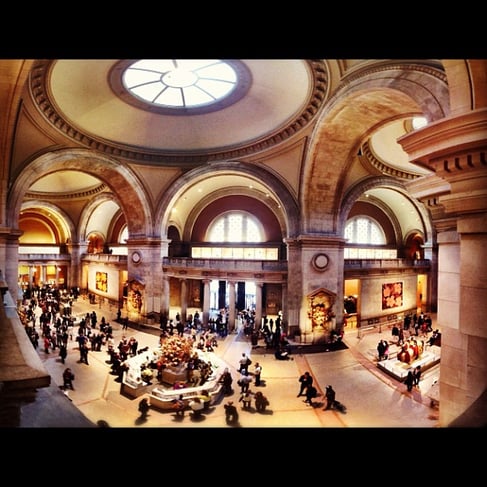 When's the last time you visited the Met - virtually or in person? There are social media marketing lessons to be learned from those interactions as Sree Sreenivasan shared during #BRITEconf 2015.
Placing the Met Into Digital Perspective
The Metropolitan Museum of Art in NYC is an amazing institution. It has history, remarkable works of art, endless cultural icons in a setting that brings ancient worlds to life, helps you understand context and generally elevates the soul. However, the Met has also had to figure out how to translate all of that culture in a way that captures people's attention and engages them.
(This bridging of old and new fascinates me. Here's an article on the topic: Museum Innovation To Connect With Customers. I also love Gazing into the Future of Content Marketing, Social Media Marketing...)
Sree Sreenivasan formerly Columbia University Digital Media Professor at the School of Journalism and first Chief Digital Officer, now Chief Listening Officer (aka Chief Technology Officer) for the Met, shared highlights from his first year there in Digital, Mobile, Social Lessons from a year at the @MetMuseum: what every business should know during #BRITEConf 2015. (Here's how to access his slides.)
The Met's Commitment to Social Media Marketing
It's serious! According to Sreenivasan, there are 12 photographers at the Met to help capture all the wonders that happen there. The social media marketing team includes 70 people who handle blogging, email, podcasts, video (including flyapp.com to shorten videos). Luckily, the Met also has lots of images online that can be accessed and shared online.
At the heart of all of the social activities and interactions is respect for human attention. Human attention is the most precious of human resources as @BenParr highlights in his writings. In his new role, Sneenivasan considers himself Chief Listening Officer for the Metropolitan Museum of Art and he listens online and off. The Met must not lose sight of how important it is to capture attention:
Some insights:
Although the audience is changing for everything, it remains curious.
People love a peek behind the scenes. The Met has started to blog about new painting aquisitions, and how those will be fixed or prepared for viewing.
Mobile is even more important than ever.
Useful, simple, delightful = principles for apps and mobile. (To put things into perspective, the New York TImes Now app only offers 30% of the NYT content. It doesn't try to do everything, yet is hugely popular.)
Although new projects are wonderful and important, it's even more valuable to bring alive what is already done. Are there ways to get people to understand what you're already doing? How might you get them to see what you're doing? That's valuable to share via social media marketing.
Takeaways From The Met's Social Media Marketing Lessons
The lessons I consider valuable to creating a customer experience that captures attention:
How can you tell stories to bring your product to life?
Share the insider and behind-the-scenes perspectives that communicate the work-in-progress nature of your product
Tell stories from different perspectives - in words, with pictures, with video, in different formats
Understand what's relevant to your audience.
Have fun
Experiment
Make your audience feel special and inspired.
Make sure that there's substance behind what you share socially.
To put all this into perspective, look at how the Met uses its social platforms to share content, and look at the kind of content it shares on each platform.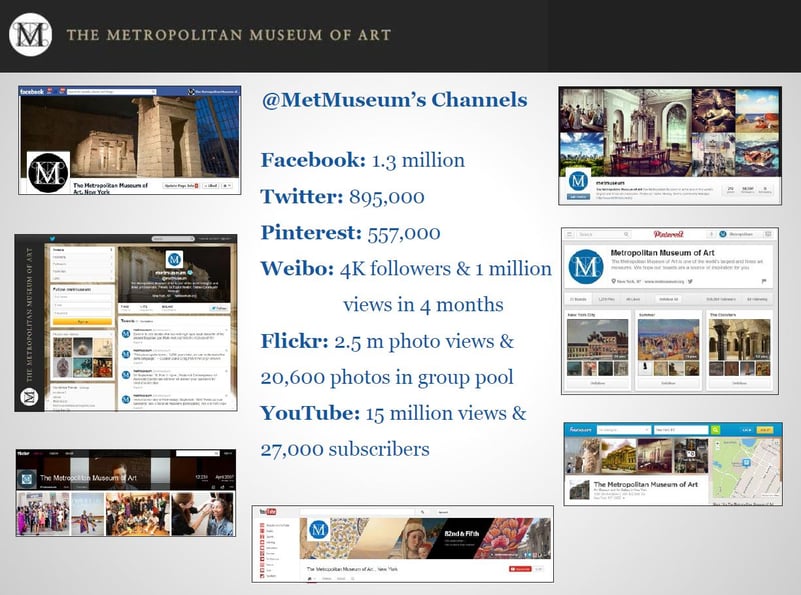 The Met on Facebook
Established on November 7, 2007 - 1,116,000 likes
Artwork of the day
Artists' birthdays
Exhibitions
Sweepstakes
Events and programs
Blog posts
Museum announcements and initiatives
Promote other channels such as Pinterest, Instagram, Twitter
The Met on Twitter
Twitter established on November 6, 2008 - 747,000 followers
Exhibitions
The permanent collection
Artists' birthdays
Relevant current trends
Events and programs
Blog posts
Museum announcements and initiatives
Press coverage
Twitter Q&A
Live tweeting from events such as Met Gala, Fiesta, Membership's 82nd and Fifth event, TEDxMet
The Met on Pinterest
Pinterest was established in March 2012 - 557,199 followers
Highlight the permanent collection through thematic boards
Exhibition boards
Watson Library Digital Collections Board
Cloisters anniversary board
Boards for Museum projects including 82nd & fifth and select Connections Episodes
25 boards and 1516 pins to date. Pinterest is the third highest social referral behind stumbleupon and facebook for the Met.
The Met on Instagram
Instagram was established on January 29, 2013 - 169000 followers
Permanent collection
Exhibitions
Gallery views
Throwback thursday historical images
Architectural details
Photos from events
#emptymet
Campaigns, i.e., #everydayepiphanies
The Met on YouTube
Recorded talks and performances
Exhibition-related videos
Teaser reels
Online initiatives (ie., 82nd and fifth/connnections)
Director's Messages
Historical videos
The Met on Flickr
Main photostream: photographs from Education, MEmbership, MADI events
Group Pool: user-submitted photos
>> See Social Media Networks Roundup: Which Ones Matter to You? for perspective on Flickr and other social media marketing networks.
The Met on Foursquare
Tips by museum staff, visitors, and others, e.g., WSJ, TimeOut New York, the Onion, the New Yorker
12 Locations: MDR, Nolen Library, The Grace Rainey Rogers Auditorium, Metropolitan Museum Steps, The Cloisters, etc.
Met Lover Badge when you check in twice and follow the Met.
What's Next for the Metropolitan Museum of Art and its Social Media Marketing Networks:
Highlight user generated content across channels
More involvement from curatorial and conservation staff
Launch new channels
Increase presence within the Museum
Access to behind the scenes content
I love how inter-related the content is from one platform to another and appreciate how it is customized to suit the individual networks.
How do you manage your different social media marketing networks? How do you modify content for one platform vs. another? What lessons can you see applying to your business? Let me know in the comments.