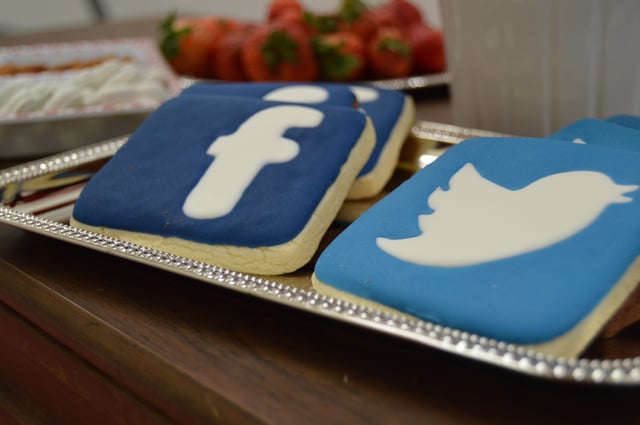 Back in 2012, Jon Trivers and I engaged in a public debate in Floor Covering Weekly about the value of social networking for business. As you might imagine, Jon declared that networks such as Facebook and Twitter were a waste of time; I debated the reverse.
To better make my points for my article, I called in support from my own social networks.
>> See Twitter and Facebook For Business Face-Off: Help Requested!
My contribution to Floor Covering Weekly is below and published in the March 19/26, 2012 issue.
(BTW - do read A Simple Gesture Leads to Giving on a Big Scale from the Wall Street Journal about my friend Jon Trivers.)
Facebook, Twitter and Trivers
By Christine B. Whittemore
Jonathan Trivers claims that 'Twitter is for twits" and Facebook for those suffering from friendship envy. In his estimation, any who venture forth socially must be fools!
Are they?
In the glory days of the housing bubble, flooring retailers had the luxury of simply opening their doors for customers to show up. Warm, ready-to-spend-money-on-flooring-bodies came to them. Nobody had to spend time building and nurturing relationships with [potential] customers, demonstrating trustworthiness or even offering a consistent, engaging and enjoyable retail experience.
Those days are gone. Most flooring retailers bemoan how tough things have gotten. Now, store cleanliness matters, as does reputation and how respectfully they interact with (women) customers. Open store doors no longer guarantee traffic. Neither does a website.
Customers begin their buying process at their computers where search and social come together – they don't stream through open doors. What matters is getting found online, beyond the store's confines, where potential customers actually congregate, not to sell or to proclaim from on high 'biggest laminate sale ever!', but rather to build relationships, learn more about customers and how product fits into their lives, to understand what solutions they want and what represents value to them. Because, when we do that effectively, we drive sales.
In other words, we are back to how we used to build relationships – socially, but now with new media tools, by slowly, consistently, offering perspective, information and expertise, showing that we care, that we are people and that we have connection to community.
That is where Facebook and Twitter offer value to flooring retailers. Don't just take my word for it. Retailers have communicated to me via Facebook, Twitter and blog comments.
Larry Callahan at Callahan's Carpet One says "Facebook and Twitter are helping me grow my business… I am looking for things to tweet or post which has forced me to take a new look at me, my business, and how I am different than my competition. Through this process I continue to evolve and get better at what I do…"
Mark at NW Rugs explains "We have been able to provide people with answers to questions and solutions about buying, maintaining and decorating with area rugs… Our clients appreciate the way we… use available technologies to help them solve decor problems and provide them immediate, visual solutions that they can use to make a purchasing decision."

Rob Jones at BuildDirect, an online flooring company, states "Twitter… allows us to collaborate with others to make our content, and offering, better suited to our customers. Facebook is where our consumer base lives. That's where we've been able to find what's most important to them, through "likes" and comments on stories that we're publishing on our blog. This helps us to help them better. It's even served as a means to get product feedback, both positive and negative, which has played into how we approach the supply chain, and customer satisfaction.

There isn't really much difference between building relationships through Twitter or Facebook… and building relationships offline. Social media is just another way to educate yourself as to what industry leaders, partners, and customers are thinking about… Being successful in business means growing a network of support to get a clearer picture as to how to serve your customer base…"
Twitter and Facebook aren't for everyone. For that matter, neither was the telephone when it was first introduced. Now, flooring retailers focused on quality interaction with customers will embrace the new social media tools that support them. They will provide the content that customers are looking for, driving traffic back to their retail stores and websites. Those retailers won't be twits for embracing Twitter and Facebook. Those retailers will be in business!
Are Social Networks Still Valuable for Business?
That article was published in 2012.
Since then, Facebook - and Twitter, too, not to mention Pinterest and Instagram - have become even more important for businesses. Not only can they develop relationships with potential customers and respond to feedback on the networks, but they do so via a mobile-friendly and easily accessible platform that visually brings to life the products and people associated with the business.
>> See Tileometry's Arpi Nalbandian Talks Social Networking for Business
>> See Marketing With Pinterest: Flooring Eye Candy!
>> See Social Listening and Trend Gazing: What Pinterest Offers
>> See Wondering About Instagram for the Tile Industry?
Interestingly, these social networks also offer effective means for precisely (as in based on specific demographic and interest-based parameters) targeting prospective customers with promotional messages -- which are even more effective when businesses practice the right social dynamics.
That to me indicates even more value.
What's your take on social networking for business? Have you seen value for your business? Let me know in the comments.