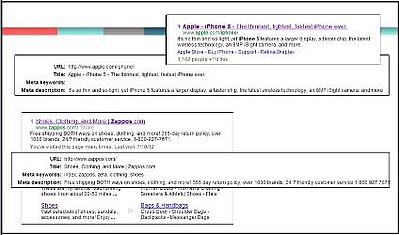 As important as SEO is, would you agree that there's a hair shirt quality to it all? It's technical, it's geeky and abstract, awkward to access and doesn't seem to visibly add to the user experience.
Furthermore, it often gets ignored because identifying meaningful title tags and meta descriptions aren't necessarily an IT function, or the role of a website developer to complete, and the marketer overlooks it because it's part of the website infrastructure and not always easily accessible.
Regardless, title tags and meta descriptions need to be taken care of so they can support your website, and offer up tantalizing clues about your business to prospective customers.
Tantalizing? Yes!
I'm here to remind you that you can have fun with title tags and meta descriptions. After all, SEO is part of your content marketing! And your content is your opportunity to share with prospects and customers your passion for how your products and services offer them solutions!
Examples of Having Fun with Title Tags and Meta Descriptions
In the process of exploring and researching, and finding examples to share in presentations and articles, I've come across clever, even humorous approaches that companies I admire take with their SEO and digital marketing, as well as their content.
Rather than be grim, boring and utilitarian, they express delight and pleasure. Or they offer really valuable information. They start the magic for visitors at the search engine results - which is where meta descriptions in particular go to work. You can tell that they view these details as part of a bigger content picture.
Let me share with you a few favorite examples.
Zappos Title Tags and Meta Descriptions
Zappos doesn't just sell shoes. It sells clothing, handbags, shoes and more online. Zappos is known for removing the hurdles associated with buying shoes (and more) online. It offers a 1 year return policy and the friendliest, most passionate customer service around.
Here's Zappos' title tag and meta description content:
Shoes, Clothing, and More | Zappos.com
Free shipping BOTH ways on shoes, clothing, and more! 365 day return policy, over 1000 brands, 24 7 friendly customer service 1 800 927 767
Helpful. Descriptive. Succinct. Hugely relevant to the Zappos customer. Highlights how Zappos is different. Would you change anything?
Apple Title Tags and Meta Descriptions
Apple - iPad
iPad is a magical window where nothing comes between you and what you love And it comes in two sizes
I love the use of 'you' in the description. Apple is looking to connect with a specific customer who already knows about Apple and iPads. Would you change anything?
Birchbox Title Tags and Meta Descriptions
Discover the best beauty, grooming and lifestyle products | Birchbox
Birchbox delivers luxe beauty samples to your door each month Find out what you love, and buy with confidence
I love the inclusion of a verb - discover - in the title tag. The meta description explains what Birchbox offers - luxe beauty samples and confidence. Would you change anything?
Crocs Title Tags and Meta Descriptions
Are you familiar with Crocs? I consider them a lifesaver for trade shows where I walk more than a mile. Comfortable, cushiony shoes in really fun colors and patterns, and accessories [Jibbitz], too. [BTW, Croc also does a wonderful job with its email marketing. See Customers Are People: Tips For Getting More Customers!]
Crocs™ Official Site | Shoes, Sandals, & Clogs | Free Shipping
Crocs official website Go ahead, walk a mile in our shoes Comfy and colorful Order direct!
Notice that Crocs includes 'free shipping' in the title tag. And look at all the information in the meta description! Comfy, colorful, order direct. An active invitation to 'walk a mile in our shoes.' Would you change anything?
Amazon Title Tags and Meta Descriptions
I confess. Amazon disappointed me. However, I rarely go to a search engine to find Amazon. I simply type amazon.com into the URL and search from there.
Despite the disappointment, Amazon represents a great example for highlighting best practices.
Amazon.com: Online Shopping for Electronics, Apparel, Computers, Books, DVDs & more
Online shopping from the earth s biggest selection of books, magazines, music, DVDs, videos, electronics, computers, software, apparel accessories, shoes, jewelry, tools hardware, housewares, furniture, sporting goods, beauty personal care, broadband dsl, gourmet food just about anything else
Compared to the previous examples, notice how both title tag and meta description are wordy. More specifically, the title includes 83 characters and the meta description includes 293 characters. Also, no verb! I would remove the reference to 'amazon.com' in the title; or move it to the end. What else would you suggest?
SEO Tips for Title Tags and Meta Descriptions
I offer you the following SEO tips for title tags and meta descriptions:
Your titles and meta descriptions should be succinct.
They should include keywords or search terms relevant to your visitors.
Be sure to place your most important search term at the beginning of your title and description.
Each page of your website needs to have its own unique page title and meta description.
The page title and meta description needs to relate to the content found on that web page, too.
Here are length guidelines:
Page title: 70 characters
Meta description: 150 characters
Any longer, and the remaining content will be cut off. Hence the recommendation to have important search terms at the beginning rather than at the end!
(If you haven't already, definitely read through Google's SEO Starter Guide. It's filled with examples and explanations.)
Are you ready to have fun with your title tags and meta descriptions? Go check out your favorite sites and explore their meta data [to view, right click and select 'view source']. Do you like what you see? Which ones are most intriguing? Then, go search for them and see how that information is presented in search results.