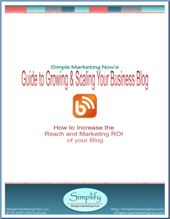 Big news! We have a new business blogging guide from Simple Marketing Now to share with you!
I'm particularly excited about this blogging guide because I believe so intensely in the value of a blog for a business (and not just because I've been blogging since 2006...). After all, it's the digital equivalent of a printing press.
Which means that, with a blog, a business can easily publish information that specific customers will find useful and valuable, and will return to, and eventually want to do business with.
With a blog, a business can easily create dynamic and fresh content which signals to search engines that they (or their spiders) come visit (aka crawl) and check out the new content associated with the website. If they like it, they'll make note of (aka index) that new content and match it up to relevant search queries from potential customers.
A business blog is a powerful business asset.
Read More