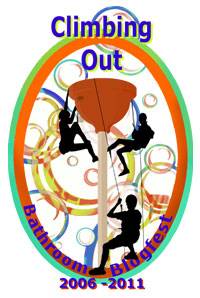 Might you be ready to 'climb out' of your routine next week? If yes, I invite you to take part in Bathroom Blogfest 2011 which takes place from Monday, October 24 through Friday, October 28, 2011.
I last referred to Bathroom Blogfest in Customer Experience and Bathroom Blogfest 2011. It's a yearly event that focuses on the customer or user experience from a multitude of perspectives. You can learn more by visiting the Bathroom Blogfest Blog page on this website.
I've been involved in it since the very beginning in 2006. Yes, it's fun and very social - the list of participants has grown significantly [check out the grid below] and most return year after year.
It's intensely creative - not just anyone can figure out how to relate bathrooms, the yearly theme and an individual blog's perspective coherently via content!
It's also an opportunity to experiment with and experience different aspects of social media marketing.
Case in point: for Bathroom Blogfest 2011, we will be involved in a Twitter Chat - an online exchange of 140 character comments done via Twitter between people interested in a common topic. [See How Do I Do a Twitter Chat?] More specifically, Professor Toilet and I will be co-hosting #kbtribechat and discussing "Rethinking the Bathroom" on October 26, 2011.
#kbtribechat takes place every Wednesday from 2:00pm to 3:00pm EST, live on Twitter, with Kitchen & Bath industry companies and professionals who explore a different topic each week. Topics range from Kitchen & Bath industry trends, advice on how to run a small to medium sized business, design trends, the relevance of green, etc...
#kbtribechat works as a guided discussion. The @KBTribeChat moderator asks questions prefaced with "Q1:". Participants respond with "A1:" and the hashtag #kbtribechat. Anyone interested can follow along and provide insights, experiences, and answers.
To participate in #kbtribechat, search on #kbtribechat in Twitter or your favorite Twitter client [e.g., TweetDeck, Hootsuite, Seesmic, Twitterific (MAC)]. Another resource is TweetChat.
Most wonderful is that a transcript of each #kbtribechat will be posted so you can review the overall session and revisit insights.
Special thanks to #kbtribechat founders @hafeleamerica and @cabinetmakers.
I hope you'll consider joining in on #kbtribechat as well as Bathroom Blogfest. Do check out the bloggers listed below who are participating in Bathroom Blogfest 2011: Climbing Out! or visit BathroomBlogfest.com.