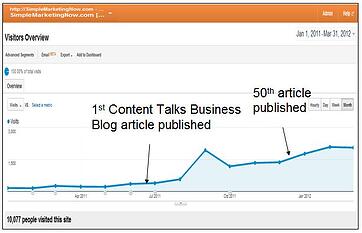 So, you've made the decision to launch a blog for your business, but you're not quite sure what kind of results to expect when starting a blog. Will you be an overnight sensation? Will you take your industry immediately by storm? Or will you languish...
The truth is that, when getting started with a business blog, you'll be lucky if anyone reads your first blog articles [except for maybe your mom or best friend]!
That's right, you start out at zero and slowly build up momentum for your blog by virtue of:
1. Creating and publishing remarkable and delicious blog content that educates or entertains
2. Doing so on a consistent and regular basis
3. Being relevant to your audience in how you address issues and concerns on your business blog
4. Reaching out and connecting to other sources of valued information in your blog articles - because you don't know it all and including other perspectives acknowledges your openness to ideas...
The beauty about starting a blog from scratch, with few people paying attention, is that you get to banish fear and trepidation. Those first blog articles allow you to:
Experiment with this new digital publishing medium and figure out what works best for you and your business.
Figure out your blogging 'voice'.
Build publishing momentum.
Get articles about your business created and published!
(If you don't believe me about the 'voice', go check out some of my very early 2006 blog articles on
Flooring The Consumer
!)
As you get more practice, your stories become more compelling, you discover that visitors find you and, depending on the quality of your content, will engage with you as subscribers, return visitors, commenters, etc...
Most important when starting a blog is focusing on developing a body of relevant blog article content which signals [to readers and search engines]:
1. Your commitment to the blog and blog topic.
2. Your credibility as a publisher of content
3. Your ability to deliver fresh content consistently.
From my observations, momentum begins at about the twenty-four blog article mark. It truly kicks into gear at about the fifty blog article mark. If you publish twice per week, that means that by six months of publishing regularly and consistently you notice respectable signs of success!
In the chart above, note the traffic stats for the
SimpleMarketingNow.com
site and the result of having launched a new blog in June 2011,
Content Talks Business Blog
. I marked the 50th blog article mark.
About the 3rd blog shown below. It is personal blog. Articles are published on weekends and inconsistently [I do my best ;-)]. Note how jagged the growth curve looks.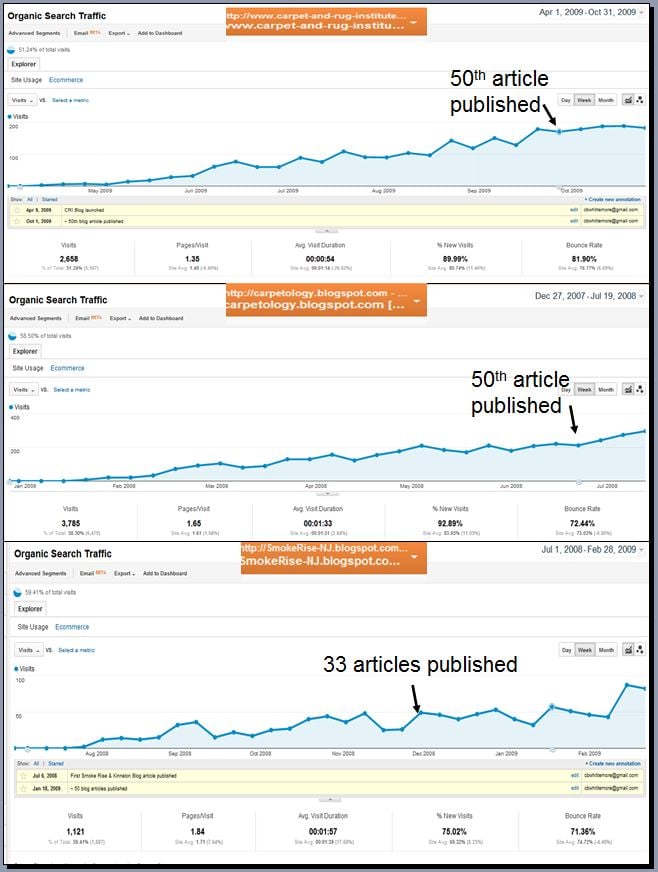 What has been your experience when starting a blog? What results have you seen? What patterns have you noticed? What words of wisdom would you offer to someone ready to start a blog for business?
If you're ready to get started, I recommend reading 10 Tips for Starting a Blog for Business.