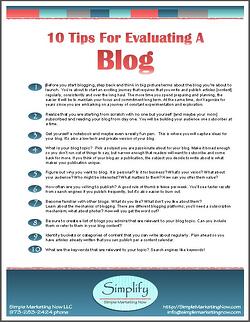 If you're ready, let's focus on blogs and evaluating blogs for business. I've even created a Top Ten Tip Sheet on the subject - link at the end of this blog article.
If you've just come across this series, it continues the thoughts expressed in Getting Started With Social Media Marketing and Getting Started: Social Media, Content Marketing, Nov 2011 Newsletter, which urge you to create a daily Google calendar or Outlook reminder to spend 15 minutes every day exploring and immersing yourself online and in social media.
I believe intensely in the value of blogs for business [check out Why Blogs For Business? For Content That Connects With Customers]. Blogs are also critical to getting found online and inbound marketing. However, before you immerse yourself in a blog, it's a good idea to go check some out and experience what makes a good one and a not so good one.
First step is to pick a topic of interest to you and go explore. I recommend a topic that you know about so you can calibrate your exploration results.
Once you have your topic, go check out what Google blog search, alltop.com and Technorati.com

offer as results.
If you're in the flooring related business, you might want to check out the blogs I've included in the November 2011 update to the Social Flooring Index.
As you explore the results of your blog searches, monitor your reactions. Do you like what you see? Is the content well written? What kinds of links do you notice? Are they to legitimate sources and do they help make sense of the topic? Or, are they self-serving? How frequently is content published? Is there a person behind the content? Or is it somewhat cold and impersonal? Would you value receiving updates from this source? Do you trust what you read?
The reason you want to explore and monitor your reactions to these blogs is so you can evaluate what makes a legitimate blog for business and determine what kind of a blog your customers might want to read and subscribe to. After all, if you're going to go to the trouble of establishing a blog and publishing fresh content on a consistent basis, wouldn't you rather have it be content that prospects and customers value?
Does that make sense?
I've organized my recommendations for evaluating blogs for business into 10 Tips for Evaluating a Blog which you can download by clicking on this link and leaving your email address.
Let me know what you discover. Which are your favorite blogs? What kind of blog do you think your customers would respond to?