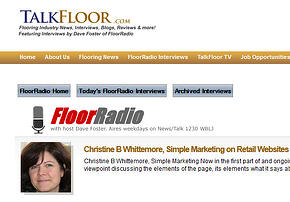 When you come across a website Home Page, what is your immediate reaction? In part 3 of my interview series with TalkFloor's Dave Foster about website evaluations, we explore flooring retailer Home Pages and focus specifically on seven.
By the way, this radio interview segment is 15:20 minutes long and can be accessed
by

clicking on this link to TalkFloor's FloorRadio for Part 3
.
What is the purpose of a website Home Page?
It communicates what a business is about to a first time visitor.
It does so succinctly, without confusing or overwhelming.
It provides answers to questions a visitor has about your product or category.
It focuses on real and meaningful content and information rather than superficialities.
It directs a visitor to other parts of your website for more information.
Recommendation: go visit your own website, look at it as a customer might. What do you notice?
Flooring Retailer Websites: Home Page Reactions
I looked at 7 flooring retailer websites. Based on each's Home Page, I detailed what I believed each's value proposition to be.
Great American Floors: in-home flooring service
Columbus Flooring & More: large selection of flooring. The Home Page includes lots of good information, and calls to action [e.g., How To information, see showroom, product mages].
Cap Carpet & Flooring: carpet and flooring. The Home Page features an engaging photo of three store representatives. These are real people! I love seeing real people. However, the focus in on the Cap Experience. What is that? [Note: the website for Cap Carpet, Inc. in Wichita, KS is no longer available.]
Beckler's: intensely focused on discount carpet. The Home Page is price-focused, and busy. It's so busy, I'd be concerned that visitors might bounce off quickly. I liked the focus on educational rugs. Do teachers come in often? I'd include more information about that segment. The page includes a picture of the Beckler's store, which is beautiful. To me, there's a disconnect between the beautiful store and the discounted look of the site. [Note: Beckler's introduced a new website after this interview. Sadly, I couldn't find the educational rugs. However, the site is more in-tune with the look of the store.]
Reinhart Carpet Outlet: large carpet outlet. This is a busy page with a jingle and visual elements with moving images as well as captions all in caps. The result is a noisy page. I caution against jingles that play automatically. Let visitors make the decision. Allow them to opt in and engage. [According to Dave, Reinhart owns the rights to this hit single song from the 50s. I recommend telling that story in the About Us section and include a link from the Home Page to learn more.]
Big Bob's Outlet: good value and service. Effective site for organization with lots of information presented in a clean format.
Great Floors: design + floor value [supported by beautiful physical store]. The layout is similar to that of Big Bob's. Clean and organized format.
Do you agree? What is your assessment of these Home Pages?
As you examine website home pages with a fresh set of eyes, think about how you welcome visitors and what you communicate to them. How does your home page help you accomplish that?
What website home pages have you come across that you find effective? Let me know in the comments.