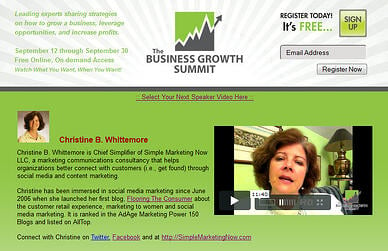 In September 2011, I took part in Business Growth Summit, a free online event featuring leading business strategy experts. As described in Business Marketing Strategies Addressed During Business Growth Summit, my video presentation addressed 7 Steps to Get Found Online.
[Click on this link to watch the 11:40 minute video of Business Growth Summit: Whittemore on VIMEO.]
Here are highlights from the 7 Steps to Get Found Online that I detail in my presentation:
1. The Get Found Online basics: what makes your business different? What are your customer search terms?
How is your business different from others and what are the keywords or search terms that customers use to search for what you offer? What are the issues potential customers have with your product category or industry?
2. Strengthen your website so you get found: assess your website and make sure your site is optimized.
I recommend Google's Search Engine Optimization Starter Guide.
Beware of bad SEO practices [e.g., keyword stuffing, buying links] and of people who promise the impossible. Don't cheat. If you do this right, you build a quality site that will benefit you in search long term.
What do you want visitors to do? Where you want them to go next on your site?
Not all visitors are created equal. Some want information about you and what you can do for them. Others want to call you immediately. Some just want to learn what this is all about. Relate this to your conversations with customers off line, in the real world.
Create calls to action around offers that can help visitors with their questions.
3. Create 'glorious' online content to get found!
Publish memorable, relevant content that your customers will value on your website and on a blog associated with your domain name. The benefit: you will keep your website fresh with new content to attract more visitors.
Rather than focus only on hard core sales and promotion messages, consider how you might elevate the conversation and address topics relevant to your audience and industry that relate to your expertise, business and passion. Establish yourself as a thought leader, as someone knowledgeable and helpful.
Your content communicates how well you understand potential customers. It also enables you to build trust, establish credibility and develop online visibility.
Your content signals that you understand where customers are in the buying process. It allows you to create effective offers that generate leads that you can nurture over time into customers.
4. Share your content via social networks to get found online
Social networks represent a source of fresh content ideas to share with your constituents. They can help get the word out about your passion for a topic and the value you share. Networks can drive traffic to your site. Without valued content you'll have a hard time creating social networks and developing them into resources.
5. Follow Up to get found online!
On your site, nurture your leads.
In your networks, acknowledge comments and respond to questions.
Be consistent about sharing information as opposed to issuing traditional shout sales messages.
Publish a regular newsletter to highlight your content, success stories, visitor feedback, etc.
Include calls to action in all of your communications.
6. Analyze to get found online
The digital world offers access to limitless data. This allows you to analyze and measure what you do online. Do more of what works and change what doesn't. Know your objectives so you measure the right information.
7. Find the time so you get found online
Lack of time is the single biggest objection I hear from an organization considering inbound marketing, social media or content marketing. Although - as with learning any new discipline - you will need to find time, particularly at the beginning of the process, I find that online marketing allows you to become more efficient overall.
It's an opportunity to step back and think about customers, the business, the competitive situation and the marketplace. Based on that knowledge, you multi-purpose the business planning and your marketing. You become more efficient with the customer-focused content you create - e.g., making FAQs available online instead of individual email messages that take 20 minutes to create. You also ensure that your marketing works 24/7 on your behalf.
Use Outlook or Google calendar reminders. Plan ahead and publish deliberately. Analyze. Stay focused on what matters to your business. But also get found online and have your digital presence work on your behalf.
I welcome your reactions and additions to these 7 steps. What have you found most effective for getting found online?