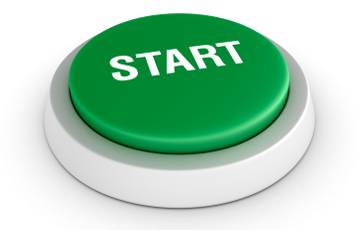 In Getting Started: Social Media, Content Marketing, Nov 2011 Newsletter, I recommend setting aside 15 minutes per [business] day - consistently - to become immersed online. As you do this, you'll experience the following three stages:
Three Stages to Getting Started with Social Media
1. At first, this time getting started will be spent exploring, reading, listening, observing and understanding the different tools of social media marketing.
2. After a while doing that, you'll notice that you're more comfortable. You'll know your way about the different social media tools and can easily subscribe for updates, evaluate the quality of the source or search on topics of interest.
3. Soon after that, you'll realize that this ongoing time commitment has become part of your everyday activity and important to your productivity. You'll have developed a routine that includes scanning for updates from your favorite resources, commenting on blogs, and engaging with followers on Twitter or LinkedIn. You will have become fluent in how to use the tools of social media marketing for your business.
Social Media: a Foreign Land with its Own Culture
Taking the take to explore and become immersed in social media matters because in many ways you are entering into a foreign land, with its own language, rules and culture. You need to understand the ins/outs, not because you plan to relocate there, but rather so you get the most out of it, and realize that this vibrant land is one you want to come back to repeatedly...
Foreign for Many Businesses Because it's Social!
What makes social media marketing 'foreign' for many businesses is that, unlike traditional advertising and marketing, it encourages interaction or conversation, and easy sharing of content amongst people.
Although Facebook, Twitter, blogs, etc. can be used in traditional ways, these tools are most effective when used for relationship building. Unlike traditional tools, they are based on people-to-people interaction rather than business-to-people. That means that they are particularly effective for businesses wanting to show their human side and establish trustworthiness, which is increasingly something only people can do and impersonal businesses struggle with.
Why Getting Started With Social Media Marketing Matters
Here's why getting started matters. Even if you bring in an interpretor or social media travel guide with you, you want to experience some of this yourself. You want to know what makes Facebook different from Twitter. You want to know what it means to engage and interact with fans and followers. You want to appreciate how to add value to the conversation and the perils associated with spamming [i.e., shouting traditional marketing messages].
Otherwise, how can you ever get it right or direct someone on behalf of your company?
Comments, feedback, reactions? For those of you in the social know, what were your first aha! moments when you were getting started with social media marketing? What would you recommend that someone starting out fresh be thinking of?

Thanks for reading!
Best,
C.B.
P.S.: If you haven't already, consider downloading my Getting Started with Social Media Guide.
------
Image courtesy: St. Mary's Health System