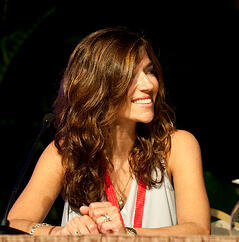 Meet Deirdre Breakenridge, CEO of Pure Performance Communications and author of several ground-breaking books that redefine public relations and marketing in a world of social media - think PR 2.0. She frequently speaks about the 'hybrid PR professional', recommends what to know about social media and shares predictions about what PR will look like by 2015.
She has also just announced her latest book, "Social Media and Public Relations: Eight New Practices for the PR Professional," due out in early 2012.
I particularly enjoy that Deirdre uses a multitude of content formats to share her passion for public relations and social media - from books, to the Deirdre Breakenridge PR 2.0 Strategies Blog, video and #PRStudChat, a monthly Twitter Chat which has evolved into a "dynamic community of public relations professionals, educators and students who share a common goal; to leverage social media in a meaningful way that will help bridge the gap between the academic and professional environments." Plus, she's based in New Jersey!
I recently caught up with Deirdre to ask her questions about her company, her latest book, #PRStudChat and the PR + social media transformation.
C.B.: Deirdre, please tell me about yourself and Pure Performance Communications.
DB: I've been in PR and Marketing for over 20 years. I was one of those high school students who knew what they wanted to do in college, and then stayed the course many years later. I always say, besides the time I spend with my family, I eat, breathe, and sleep public relations, marketing and social media. I also use my writing (books and my blog) as a means to share my passion with others.
Most of my journey in communications was spent working on the agency side. I loved the thrill of deadlines and the crazy agency life. For those who have worked in an agency, you can relate to how the extremely creative people you meet and the interesting projects make the long hours and hard work an incredibly fun experience.
However, after owning and running a marketing communications firm for over 14 years, in 2011, I "turned the page" to start a new consulting venture. Pure Performance Communications formed to help businesses move their audiences from interest to action, by transforming messages into strategic business communications. Pure Performance focuses on innovative and collaborative technology to create more interactive engagement between brands and the public.
C.B.: What was the inspiration behind your latest book?
DB: The inspiration behind my new book, "Social Media and Public Relations: Eight New Practices for the PR Professional," is the changing PR landscape and new opportunities for professionals who are willing to accept additional roles and responsibilities. My book should be available in February or March 2012, in all digital formats as well as print on demand.
In some cases, the new practices highlighted in the book crystallize what's naturally occurring within our own organizations and the changes we experience daily through social media. In other cases, there will be new areas for PR people to develop and carry forward in their organizations as champion organizers, rallying others to think strategically and to embrace new practices. PR is changing and professionals have an opportunity to claim - or maybe I should say reclaim - their strategic value. PR professionals should have a permanent spot at the strategy table and they should also have a direct line to the CEO of a company.
C.B.: Describe for us the PR expansion movement? How has PR expanded and how has technology and social media forced that change?
DB: The PR expansion movement revitalized our industry allowing us to move from communications liaisons and handlers to influencers and champions through social media and democratized content. PR has expanded in many ways and technology and consumer behavior have forced the change. Consumer generated media allowed the public to really become a part of the conversation, which caused PR professionals to rethink how their companies approached communications. They had to create new ways to interact directly with people, one-on-one, to build relationships rather than using broadcast messages.
As technology continues to advance, consumers will be further empowered to engage more directly with their favorite brands, but only with those brands that are able to capture their attention, by providing valuable information. Social media allows companies to tell a much more human and customized story, allowing brands to forge deeper connections and to create loyal customer advocates.
C.B.: You refer to 8 new practices for PR pros in your book title. What are those and how do they differ from traditional PR?
DB: The eight new practices are the result of how social media requires PR professionals to think differently about communication to build long-term relationships that lead to valuable business outcomes for their brands. The eight practices include:
PR Policymaker
Internal Collaboration Generator
COMMS Organizer
PR Tech Tester
Pre-Crisis Doctor
Relationship Analyzer
Reputation Task Force Member
Master of the Metrics
For example, the PR professional who takes on the new practice of a Pre-Crisis Doctor isn't just called upon to manage crisis and neutralize a situation. These PR professionals proactively work to prevent crisis by setting up systems and procedures that are integrated into a company's overall crisis plan.
Another example is the practice of Relationship Analyzer, who doesn't just build a relationship with an audience, but learns to use technology to really understand the behavior, dynamics, and connections that are made between people as well as consumer advocates and their brands. The Relationship Analyzer knows how to enhance stakeholder engagement, moving more quickly from awareness to loyalty and advocacy.
A third example is the PR Policymaker, where PR professionals are involved in the social media policy development for their companies. In some cases they are spearheading the process or they join a team of social media visionaries who help to guide employee communication through social channels (a practice different than any policymaking in the organization in the past).
The knowledge, skills and abilities of each practice may differ from traditional PR practices, yet all of the practices have to integrate. Today, traditional, digital and social media communications must integrate to reach people with information that's useful to them.
[Note: read more about eight social PR roles in this blog article.]
C.B.: Why are these 8 practices important to businesses?
DB: The eight practices help a business to better prepare internally for social media communications, which leads to better external communications. The saying, "If it doesn't work on the inside, it won't work on the outside," applies to social media. What most executives don't realize is that social media must start on the inside of the company.
Many of the new practices help professionals to understand their role in the research, testing, and implementation of new technology and processes, and also how to empower people to collaborate and innovate together. When social media works on the inside it leads to better social media interactions with the public.
In addition, each practice is strategic and helps the business to clearly identify what it needs at various stages of social media planning from monitoring and measurement to channel selection, content optimization and better engagement strategies. When these practices are in place, valuable resources are note expended on programs that fall short of expectations.
To Be Continued in Part II.
What do you think about social media and public relations? Have you already noticed an evolution taking place in your organization?