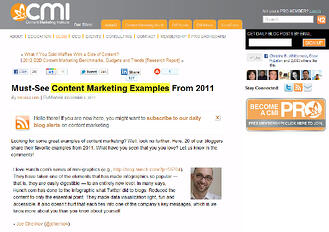 The Content Marketing Institute has been sharing wisdom from its contributors in a wonderful series of crowd-sourced posts about content marketing. Have you had a chance to read them?

This one - Must-See Content Marketing Examples from 2011 - is a goldmine! It details favorite content marketing examples from:
Joe Chernov - Hunch.com's series of mini-graphics
Darryl Praill - Protus
Clare McDermott - Whole Foods
Russ Henneberry - Urban Martial Arts blog and Arch City Homes
Amanda Maksymiw - AtTask
Ahava Leibtag - Amazon Kindle Fire introduction
Jason Falls - University of Louisville Hospital
Doug Kessler - GE Show
Scott Aughtmon - American Pickers
Joe Pulizzi - Openview Labs, LEGO
Anna Ritchie - the Social Network Decision Tree
Arnie Kuenn - Orabrush
Sarah Mitchell - the Australian Mines and Metals Association
Nenad Senic - Financial Advice by NLB, the biggest Slovenian bank
Toby Murdock - fashion and beauty sector examples
Gilad de Vries - examples from GE, Unilever, P&G, Liberty Mutual and General Mills
Tracy Gold - Nightmares Fear Factory [a haunted house!]
Jon Thomas - Endless Vacation
James Gross - Redbull's Art of the Flight
Here is the Content Marketing Example I shared:
I particularly love data that tells a story. FastCompany does a beautiful job via its "Infographic of the Day" showcasing data while telling a story. Here's a recent example that features interactive maps created by Trulia and featured on theTrulia blog. [Trulia, by the way, is another example of a company that has radically reinvented a category - real estate - by making data meaningful for home buyers through content.] From FastCoDesign: Infographic Of The Day: How Men And Women Differ When Making Big Sales [i.e., real estate]. Note how the FastCompany article provides context and meaning so the reader can't help but want to explore the interactive charts… and share it with others. Do you think the data reflects how you buy real estate?
- CB Whittemore (@cbwhittemore)
What is your favorite Content Marketing Example of 2011? What do you think of the examples captured in CMI's blog article?