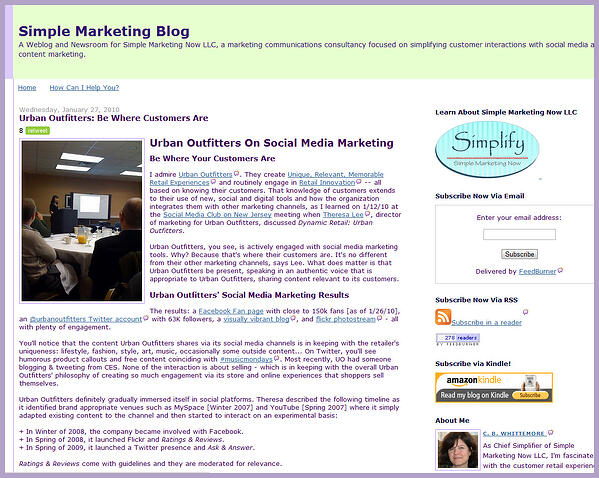 Before launching Content Talks Business Blog in June 2011, I published articles on the Simple Marketing Blog. An article there that has generated considerable traffic is one titled Urban Outfitters: Be Where Customers Are which offers sound online marketing advice.
I find retail fascinating [hence Flooring The Consumer Blog on Simple Marketing Now]: it's the closest to a pure market environment and offers endless lessons and ideas for other businesses including B2B.
What I like so much about Urban Outfitters is that they are intensely focused on the customer and do so consistently regardless of the media used. At the same time, they are willing to experiment.
As their executive director of marketing, Dmitri Siegel, explained at Fashion140 [see my article Urban Outfitters at Fashion140: Dmitri Siegel on Social Media Strategy], their social media strategy is based on Think, Connect, Listen, Party and Measure. Pretty sound online marketing advice!
In Urban Outfitters: Be Where Customers Are you hear firsthand from Urban Outfitters' director of marketing Theresa Lee. She offers a history of how the company became immersed online and with social media. She shares learnings from the process. She offers intense advice. Namely, "Customers aren't siloed and you can't operate that way either."
Here are other articles relating to Urban Outfitters that I've come across and shared via #retailexp on Flooring The Consumer:
Are you a fan of Urban Outfitters? What do you think of their online marketing? What might you apply to your business?
Thanks for reading.
I wish you a wonderful 2012!