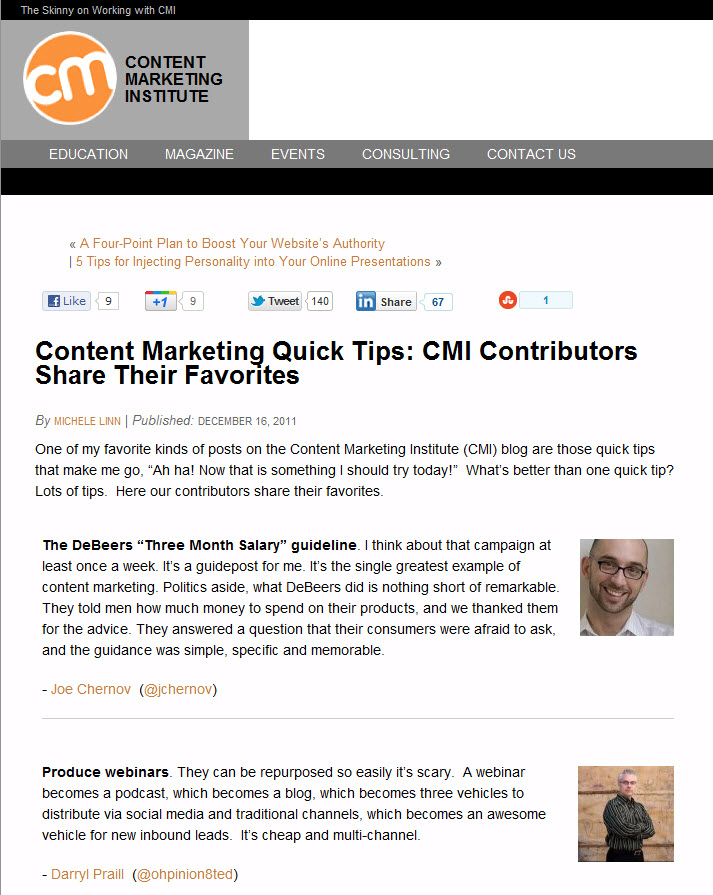 The Content Marketing Institute contributor crowd-sourced blog articles continue. Not only have we seen Content Marketing Examples of 2011, and 26 Favorite Content Marketing Lessons from 2011, but we also - in this article - get to read about Content Marketing Quick Tips: CMI Contributors Share Their Favorites.
No surprise: you will find valuable tips from these Content Marketing experts!
Tips for Creating Memorable Content
Be specific, simple and memorable with your content says Joe Chernov
Use graphics and words to be appealing, entertaining and informative says John Bottom
Get attention for your content with good headlines says Russ Henneberry
Commit to a content editorial calendar to create content on a regular basis says Manya Chylinski
Use stories to create powerful content says Scott Aughtmon
Ask yourself would your reader find so much value in your content that s/he would forward it to someone else asks Jessica Eastman
Take your executive team through a visual content audit says Joe Pulizzi
Create content that answers the kind of questions being asked on Yahoo Answers says Arnie Kuenn
Find freelance journalists to support your content marketing creation says Sarah Mitchell
Ask why your audience should care about your content says Stephanie Tilton
Tap into your organization for customer-relevant content marketing ideas says Toby Murdock
Tips for Making the Most out of your Content Marketing
Produce webinars and be sure to multipurpose the content says Darryl Praill
Don't forget to include a contextually relevant call to action, with an unique tracking code, in your content says
Heidi Cohen
Find quick, easy ways to repurpose every bit of content you develop says Tom Pisello
Remember to personally thank those on Twitter who willingly share your content says Nate Riggs
Don't underestimate the value of live, face-to-face events, clinics, and workshops as opportunities for content marketing says Russell Sparkman
Tips for Content Marketing Ideas
Carry a notebook with you to capture brilliant content marketing ideas says Amanda Maksymiw
Mine your favorite Twitter hashtags for relevant and insightful content ideas says Ahava Leibtag
Brainstorm content ideas by finding parallels to a concert at a performing arts center says Jason Falls
Use TweetDeck to learn about new markets [via search and hashtags], to monitor topics of inteterst, to share content and to reach out to fellow marketers says Doug Kessler
For sources of content inspiration, use Google Reader and instapaper says James Gross
Use 'Dragon Dictation' app to help transcribe interviews in real-time says David Huffman
Pre-schedule tweets and Facebook updates with Bufferapp says Katie McCaskey
Be ready with a digital video cam to capture serendipitous content opportunities says Michael Kolowich
Set up Google alerts for keywords or topics relevant to your business says Anna Ritchie
Have tools ready to capture content ideas - e.g., Google Voice, Dragon Dictation - says Will Davis
Here's my advice for creating memorable content:
Always be thinking: how does this content benefit my audience?
What is your favorite content marketing tip? What do you think of the advice above? What would you add to this list?
Be sure to check out the original post.